Can you recommend/suggest a software program that will show me exactly all programs (showing or hidden) installed on my laptop??
Surprisingly, the answer is no.
Even more surprisingly? There's really no single definition of what an "installed program" is.
Programs come from everywhere
Generally, when we talk about programs installed on our computer, we're thinking of something we've downloaded, purchased, and installed. This could be anything from a full-fledged suite of programs like Microsoft Office, to a handy little utility you might download from a website somewhere. Office would include several "installed programs", whereas the little download might not have an installer at all, and might rely on you to just run it from the location to which it was downloaded. Is it an installed program? Maybe. Maybe not.
The upshot is there's no real rule as to what it means to be an installed program. Some are obvious, like Office; others, not so much, like our little download. As we'll see, there's also no real rule as to how they're supposed to present themselves to you, where they should install, or how they should uninstall.
In fact, there's no requirement that they be able to be uninstalled at all.
There are also things we might refer to as "installed programs" that are really parts of Windows itself, while other items listed aren't stand-alone programs at all, but rather components installed to help other programs.
Yes, it's confusing. The good news is that 95% of what we care about is generally listed in one of two places.
Settings app
In Windows 10, the first place to look is in the Settings app, in "Apps and Features".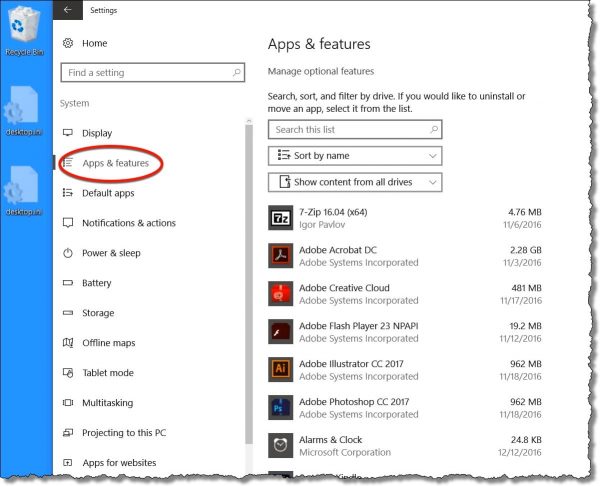 Here you'll find a list of programs (both "apps" and "applications") that have been installed, as well as programs that came with Windows originally.
You'll also find shared components. These aren't really programs by themselves, but installations of software used by other programs. A good example is the multiple copies of the Visual C++ Common Runtime prevalent on so many machines.
Unfortunately, that list, while extensive and covering most of what people expect, may not cover everything.
Control Panel
In Control Panel, open "Programs and Features" (or "Add/Remove Programs" in older versions of Windows).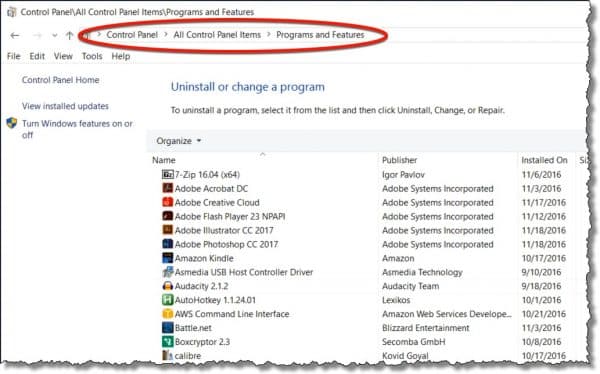 In theory, everything on this list would also show up in the Settings app above. In practice, you'll occasionally find things here that don't appear in the Settings app. More importantly, you'll find things in the Settings App – like apps – that you won't find in the Control Panel list.
Having looked at this list, we're not quite done with Control Panel. Many things people consider "installed programs" are, in fact, parts of Windows itself. In Control Panel, click on the Turn Windows features on or off link to the left, and you'll be given an additional list of software.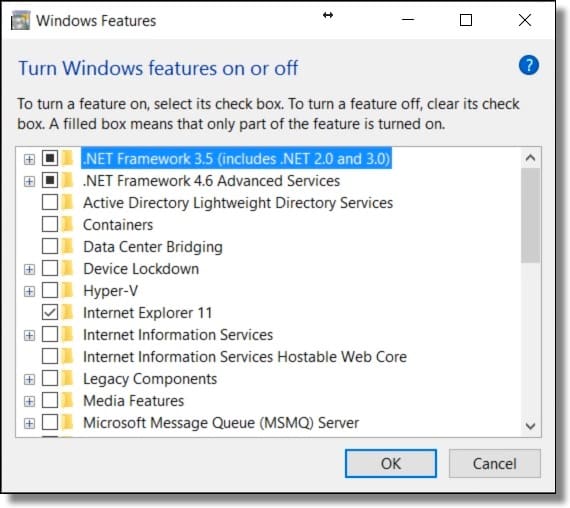 In this list, you'll find items you might consider installed programs, such as Internet Explorer, the Windows Power Shell, and several others.
Between Control Panel and the Settings App, we've discovered about 95% of the installed programs on your machine. We still have a couple of other places to look.
Start Menu
In a sense, the Start menu (Start menu, "All Programs" for versions prior to Windows 10) is a list of installed programs.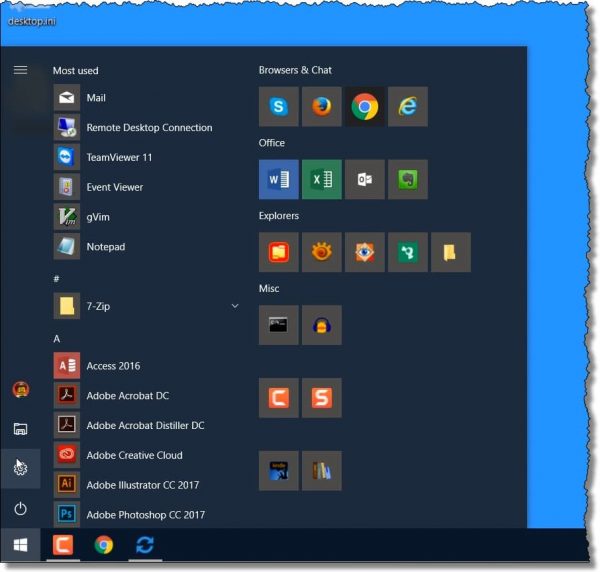 You may find things on your Start menu that aren't seen in either the Control Panel or Settings app lists. There's no requirement they be listed there, though most will. It's worth scrolling through the Start menu list of programs.
Program Files folders
There's also no requirement that a program be listed anywhere. One additional place to look – actually two places – would be the "Program Files" and "Program Files (x86)" folders on your machine.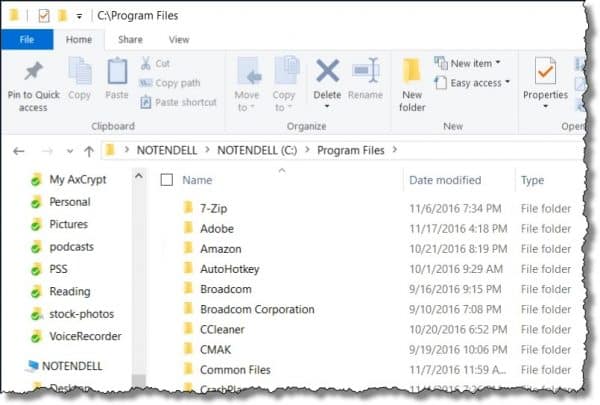 These are the folders into which programs are commonly installed.
Unfortunately, you may need to examine the contents to see what's in each. Quite often a program's folder name will not be the name of the program itself, but the name of the company who created that program (like "Microsoft"), or something else related to that program (like "Microsoft Office").
Once again, you'll likely find folders and programs here that aren't listed in any of the other places we checked above.
Who knows where?
Finally, it's possible that other "installed programs" are simply "somewhere on your machine". There's no enforcement of any of the lists or locations we've mentioned so far.1
The net result? There are very likely programs in other locations on your machine that simply can't be predicted here.
What can be removed?
When asking this question, most people are interested in looking through what they find and removing what they don't use.
I advise caution.
If a program is in one of the "official" lists – Control Panel or the Settings app – then uninstalling something you don't need has little risk as long as it's not a shared component (like that C++ Runtime).
If there's an explicit "uninstall" on the Start menu for a specific program, that's typically a safe way to remove software you don't use.
However, that's as far as I would go manually.
One more thing you can do, of course, is to run anti-malware tools or the tools used to remove PUPs. These programs typically know additional places to look, and safe ways to remove whatever it is they find.
Of course, before removing anything, I strongly advise a full system image backup, just in case.
Podcast audio

Download (right-click, Save-As) (Duration: 7:06 — 6.6MB)
Subscribe: RSS
More for Patrons of Ask Leo!
Silver-level patrons have access to this related video from The Ask Leo! Video Library.
  Is there a way to list all Installed Programs?