Question: I am aware that not going through the proper Windows shutdown can possibly have negative effects on a computer. But my question is if a computer loses power (due to a household power outage, not anything wrong with the power supply), are these negative effects strictly software related (meaning a format and reinstall would fix them), or might it cause hardware problems as well?
Shutting down Windows properly before turning off the power to your computer is important.
Not doing so can result in data loss and corruption as files are left only partially written to disk. But just turning off the switch is unlikely to actually harm your hardware.
Surprisingly, a household or other area-wide power outage turns out to be a completely different, riskier issue.
Shutdown
As I said, shutting down Windows properly before turning your computer off is important.
Windows often keeps things in memory (RAM) that you really want to have written to disk, and shutting down Windows gives it the opportunity to flush all that information to the hard drive. In addition, if you happen to turn off the power while Windows is writing something to the disk, you run the risk of corrupting files. In the simplest case, you may never notice. In the worst case, your system might become unbootable.
In extremely rare scenarios, hardware might be damaged by just turning off the power. USB flash drives, for instance, really need the equivalent of a "safely remove hardware" on shutdown. If they don't get that, a poorly designed device could be damaged. I would hope that most are more resilient than that.
But actual hardware damage from turning off the power switch at the wrong time is extremely rare. More common are data-related errors, which, as you say, can be resolved in the absolute worst case with a format and reinstall.
Power loss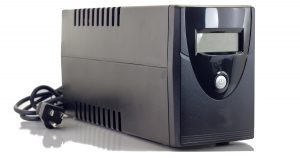 So why is household power loss different?
Well, to be fair, many times it's not. Power just … goes out, as if someone threw a switch. That's pretty close to turning off the power as we discussed above.
Unfortunately, all too many times it's nowhere near that clean.
A great example are windstorms we suffer in the Seattle area from time to time. As trees fall onto power lines, various things happen:
Power "blinks" while the power grid automatically re-routes our power through other circuits, compensating for a supply line that has just broken.
Power "browns out" as power lines begin to short or fall onto trees and other structures, where they make a partial connection. Brown-outs occur when voltage on the line falls to levels lower than the normal 120 volts we use here in the U.S.
Power "surges" as power lines short with each other or fall onto other electrical equipment. A surge pushes the voltage above the normal 120 volts. Automated equipment is supposed to cut power when this happens, but the leading edge of the surge almost always makes it out to customers in some form.
After any of the above, power may finally go out. It may go out suddenly, it may brown-out and go away, or it may go away in a sudden surge followed by darkness.
I use trees and a windstorm as an example here, since in our area most of the power distribution network to homes and businesses is above ground due to the distances involved. Even areas with primarily underground power distribution are still at risk, since the high-voltage feeds that bring power into your area are still typically above ground. And, of course, certainly other situations besides windstorms can cause power failures with all the symptoms I've described above.
Losing power due to a power outage is typically not nearly as "clean" as just turning off a switch.
Power loss protection
Consider your poor computer (or any electronic device) connected to power that's browning out, surging, blinking, and more before it finally goes dark.
Some equipment can handle that mess.
Some equipment cannot.
In fact, a lone power surge can damage sensitive or just plain cheap equipment.
So, what do you do?
I have two recommendations, depending on how frequently you experience power problems in your location.
Surge protectors. Note that a "power strip" is not necessarily a surge protector. A power strip merely distributes power to multiple outlets, while a surge protector includes additional circuitry to automatically and cleanly cut power in the case of a power surge.
Uninterruptible power supplies. UPSs are usually large batteries with the circuitry to continue to provide backup power if the primary power source fails. As a side effect, they typically include power "conditioning", which can eliminate temporary drops, surges, and brownouts. In the worse case they simply switch to battery backup if the incoming power becomes too unstable.
What you need depends on your situation. Sort of.
There's no reason not to use a surge protector. They're inexpensive insurance. All of your desktops, most printers, and other equipment should be connected to power through a surge protector.
If you experience frequent power problems, or if your computer is particularly sensitive or critical, then getting a UPS and connecting through that makes a lot of sense.
Laptops and equipment that use power "bricks" that convert from household voltage to something lower typically don't need any special treatment. Connecting through a surge protector doesn't hurt. Connecting a laptop (which in a sense has its own form of "battery backup") through a UPS is somewhat pointless, and would add an unnecessary drain on the UPS's battery if the power went out.
In my case, my computers are connected through surge protectors, and a subset of my networking equipment is connected to a UPS. My laptops, of course, will run on their internal batteries in case of a power failure. I simply make sure that the modem, router, and wireless access point all have backup power from the UPS. This allows me to stay online for a few hours before the battery runs out.
Podcast audio

Download (right-click, Save-As) (Duration: 6:57 — 3.3MB)
Subscribe: RSS
Video Narration