Question:
You recommended backing up with online programs including Skydrive, Google Drive, etc. but these sync all the computers on the system. Can you not then lose files that get accidentally deleted? I used to back up my copy to another networked computer, but fear that now I may lose info on all of them if something does me in on one. I didn't notice any discussion of this in
Backing Up: 101
. I've been following your newsletter for years and appreciate it. I only wish I had time to read more.
You are correct. With the way that your backup is set up, you could lose files, but there are a couple of safety nets and at least one clarification.
To begin with, when you use a file syncing or cloud-based file-sharing service like Google Drive, Dropbox, or SkyDrive, you need to remember that they should be part of an overall backup strategy.
Backing up to the cloud
File syncing or file sharing services are great for the immediate backup of your files to other locations. If your computer crashes while you're working on something, your laptop is lost while you're traveling, or some other situation causes you the loss of your machine or your work, the most recent versions of the files are just automatically available in a secure place.
But it's something to augment, not replace, traditional backups.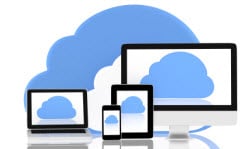 With file syncing or file sharing services, you might feel better about not necessarily doing full backups quite as often because the documents that are changing the most rapidly are also being backed up the most frequently.
Nonetheless, you still want to be backing up with image backups. When a file gets accidentally deleted and it ends up being deleted from all of the different machines that it might have been stored on, then you can turn to your image backups to retrieve a prior version of that file.
Protecting with image backup
And to be clear, this is not just for accidental file deletion. Files can be damaged in any number of different ways. You could be turning to the image backup of a file for something as simple as an edit that you didn't intend to make.
Once you save a file, that "damage" is replicated by the file syncing services to all the other places where you have the files stored.
However, there may be a safety net.
File history
Some services actually keep a history of your changed files.
For example on Dropbox if you delete a file, the old file is still available. If you change a file accidentally in a way that you didn't want it to be changed, the previous version is still available.
In my case, I went to the Dropbox website and could download old versions of some of the files that I've been storing there, including files I'd deleted.
Now they don't keep them forever, and not all services provide this level of safety net, but it's worth noting that there are definitely some approaches available.