I am a relatively new PC user and want to start backing up my hard drive. I have an external drive, and my PC has two internal drives configured in a raid set up. The PC drive has four partitions on it.
Must I create the same four partitions on the external and back up the contents of each partition in the PC to the relevant new partition on the external?
First let me say good on you for setting up a backup. Sadly, you're in a minority. Most people still don't think about backups until it's too late.
The answer to your question depends in part on the capabilities of the backup software you use. But I do have some ideas and recommendations.

Drives versus partitions
I actually get this question relatively frequently, but in a slightly different context. Rather than having a single hard disk with multiple partitions, I get asked how to back up machines that have multiple hard disks.
While the physical characteristics are, of course, quite different, in this case the answer is usually the same.
And the best answer is: typically, it just works.
While you might have different drive letters – each to a partition, each to a physical drive, or some combination thereof – or you might even have "hidden" partitions that have no drive letter at all, most current backup software simply handles what you need to have handled automatically.
Image backup software
If you use image backup software (including either of my recommendations, Macrium Reflect or EaseUS Todo, or any of several others), your backup drive need not be similar to what it is you're backing up. All it needs is to be big enough to hold the backup.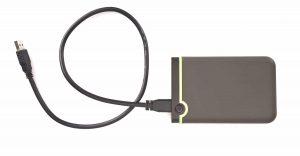 Most image backup configurations are a two-step process:
Indicate what should be backed up.
Indicate where you want the backup to be placed.
You select your assortment of partitions and/or drives that you want backed up (hint: I recommend backing up all partitions on each physical drive), and the program creates a single file containing the backup of everything you indicated.
As long as your external drive has enough room, you're done.
Restoring some, or all
When the time comes to restore from your backup, you have all sorts of choices.
You can restore the entire image of all disks and partitions.
You can restore only specific disks onto replacement disks, as long as the target disk is big enough to hold the data.
You can restore only specific partitions, as long as there is enough room for the partition and data.
You can restore only specific files.
In short, you can do pretty much anything you like.
I think you can see why I much prefer this approach to backing up over some of the alternatives.
Backing up only some
If you want to back up only certain disks, or certain partitions on the disk, that's simply a choice you make when you create your backup.
I prefer that when you back up, you back up everything – that's the safest approach.
However, if you want to back up only certain partitions and/or drives, you simply select only those partitions and/or drives when you create the backup. They'll all be placed into the single, combined file.
Other approaches
Now, other backup approaches may work differently.
For example, I suspect you're thinking about what I tend to call "cloning" a disk.1 That includes not only all files, but all layout information, and even unused areas of the disk. It's much less flexible about where it can be stored, usually requiring an identical drive or partition as the destination for the backup.
Cloning has its place, but for most users, it's unnecessary for backing up – an image-based strategy will do.
At the other end of the spectrum, you may just be copying files. The restrictions on that are much simpler: as long as there's room for the files you copy, you can put them wherever and however you like. Just realize that you may not be getting absolutely everything on your machine in the same way that an image backup would.
Ultimately, the decision of how best to partition your backup drive depends on exactly what tools and techniques you use to backup. Most likely, you need do nothing special. I typically recommend partitioning it as a single drive.
But you'll need to check the documentation associated with your backup program to be sure.
Podcast audio

Download (right-click, Save-As) (Duration: 4:52 — 4.5MB)
Subscribe: RSS