Kindle this, Kindle that. It seems that every time that I turn around, someone's talking about Kindle. Even you're publishing books on Kindle. Good for you, but what about those of us that can't afford a Kindle, or just don't want one? Am I out of luck?
OK, I totally made that question up, basing it on what I expect a lot of people to be saying as more and more publishers begin producing content on Kindle – either exclusively, or "exclusively-for-a-while."
Including myself.
You are most definitely not out of luck. Far from it.
And it's one of the reasons why I really like the Kindle publishing platform.
Kindle without Kindle is FREE
I love my Kindle Fire and know many people who share that love. I also loved the previous editions of the Kindle as well.
The big deep dark secret to Kindle, however, is that you don't need a Kindle device to read Kindle books. All that you really need is an account with Amazon.com.
After that, aside from the cost of the books, everything else that you need is completely free.
What I'm talking about, of course, is the Kindle application: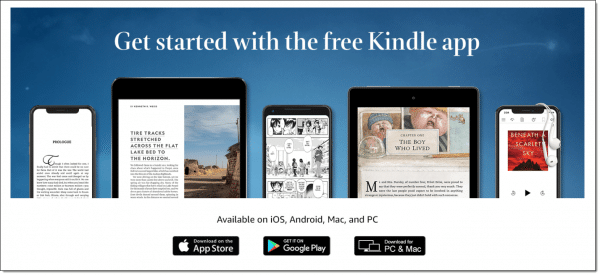 If you have a PC, a Mac, an iPhone, an iPad, or an Android-based phone or tablet, you can download the Kindle application for FREE.
Once installed, that application lets you read any Kindle-based publication that you like.
Multiple devices? No problem!
Most Kindle titles can be downloaded and read on multiple devices that are assigned to the same Amazon account. In my case, that means that I can:
Read a book on my Kindle Fire
Continue reading it on my Android-based phone while I'm out and about
Continue reading it on my Windows PC when I need a break at my desk
"Continue reading"? Yep.
As long as the device that you're using has internet connectivity, the various devices on which you might be reading a Kindle book will keep themselves in sync. It's not uncommon for me to open up a book on my phone (an interesting phrase all by itself), only to have it say "looks like you've read up to this far on your Kindle Fire – want to just pick up there?"
Can't forget the cloud!
There's even a Kindle reader that works in many web browsers without even needing a separate application.
Visit https://read.amazon.com in Edge, Firefox, Chrome, or Safari (including Safari on the iPad), sign in with your Amazon account and you'll be able to read any of the Kindle books that you've purchased right there, in your browser.
Running Chrome is my approach to reading on my Ubuntu Linux boxes – it works great.
Doesn't buying mean that you download books?
You're buying a book, but unlike a physical book where you take one copy home, Amazon's approach is a little different.
Buying a book on Kindle is more like getting a perpetual license to read the book on any device that you own. The "master copy", if you will, of the book is always kept on Amazon's own server. Visit the "Manage my Kindle" page at Amazon and you'll find a list of all the books you've purchased along with a menu on each one that allows you to send it to whatever Kindle devices you have registered: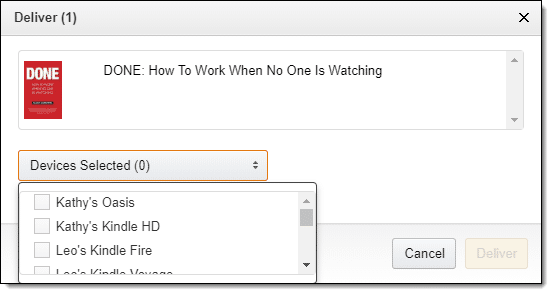 Naturally, you can also visit your online archive from any of your Kindle devices directly and select books that you've purchased to download as well.
Just another format
Kindle has become more than just a cool e-reader. Much like PDF, it's become a file format. With free Kindle readers on just about any platform that you might consider using to read books, there's just not much of a barrier to use Kindle for all sorts of reading needs.