But first, perhaps a better suggestion.
Deleting is permanent. There's another option that's less drastic, includes a safety net, and eventually achieves the same goal.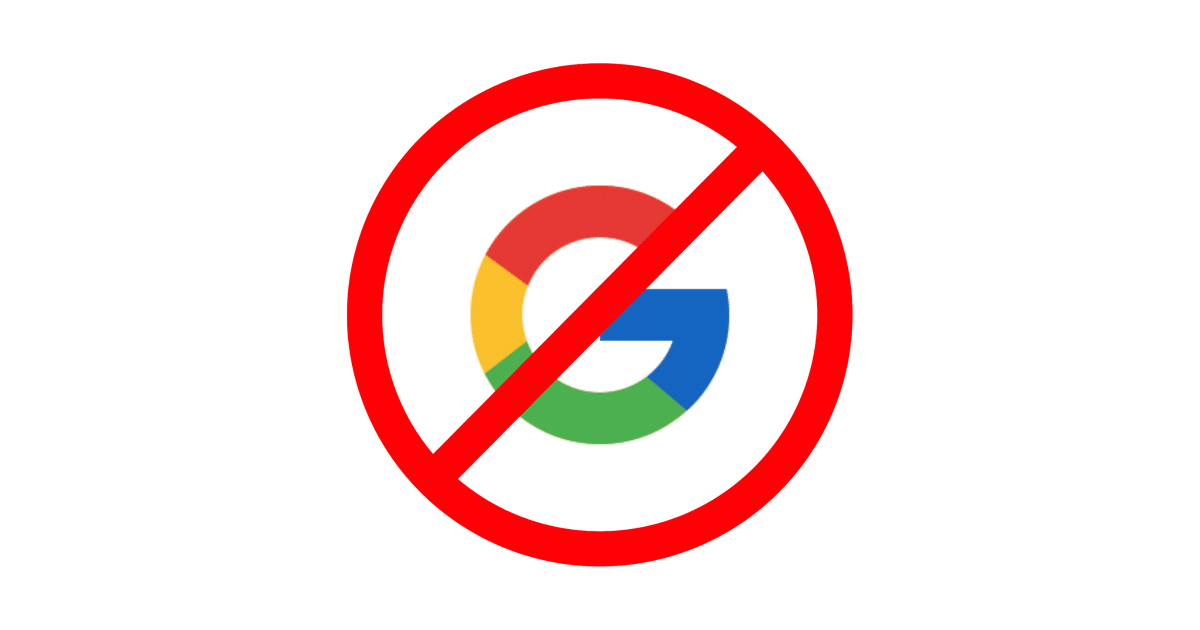 Question: When I retired, I decided I no longer needed a couple of additional email addresses. What I would like to know is how do I delete the two Gmail accounts that I no longer need? I don't want to start deleting things without knowing what I am doing in case I delete my personal account in error, which would be a disaster.
It's not hard, and I'll show you how to do it safely.
But I'd like to suggest you not do it. I have an even safer alternative.
Deleting a Google account
Use Takeout to create a backup of the entire account contents before doing anything.
Consider securing the account against being hacked and then simply abandoning it. If you forgot something you need, it's simple to sign back in to get it.
To truly delete, visit "Manage your Google Account" and "Data & privacy". The option to delete the account is near the bottom.
Before you do anything
Start by signing in to the account. Since you've got multiple accounts, make sure you're "in" the correct account. That's indicated by the profile icon in the upper right and the information shown when you click on it.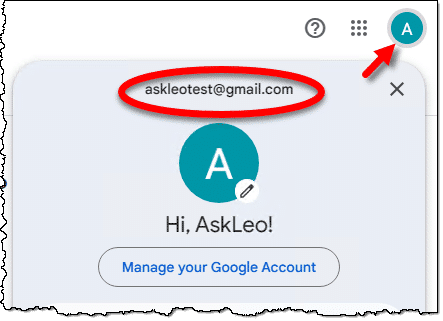 Regardless of whether you actually delete the account or not (I'll get to that), go to Google Takeout.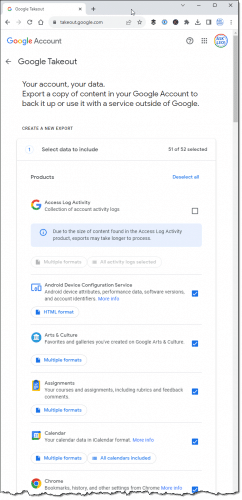 Takeout is Google's one-stop-shop for exporting all of your account information: all your files, your email, your calendar, your contacts, and lots of other things you might not even realize are associated with your Google account.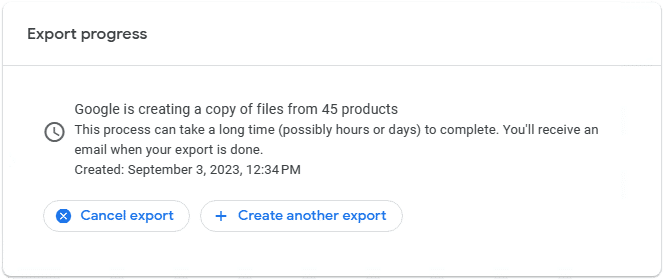 This can take a long time (as noted, "possibly hours or days"). When completed, you'll be given a .zip file to download.
Save this file somewhere, secure in the knowledge that whatever happens next, you've backed up everything in your account should you later decide you need something.
Abandonment issues
My recommendation is that you then simply abandon the account. Before you go:
Set a long, strong password. (I like 20 random characters. Something like Y7DWABmYwm2JKGzuNBJb.)
Make sure account recovery methods are set and current.
Consider adding two-factor authentication.
Why am I locking down the account so hard? On the off chance it gets hacked if your security isn't up to snuff. It's a small risk, but it's so easy to protect yourself from that it just makes sense.
Then stop using the account. Don't sign in with it anywhere. Period.
At a practical level, this is no different than having deleted the account. Had you deleted the account, it would have been the same: you'd stop using it and not sign in with it anywhere.
The difference? It's a safety net I think you want. Even with Takeout, being able to sign in to the account to retrieve some forgotten something is much easier than trying to extract it from a large zip file.
And I promise there's a pretty good chance you'll change your mind. I see it all the time. Once actually deleted, you can't get the account back.
If you just don't use it for long enough, Google will eventually delete it for you anyway.
Real deletion
Perhaps you have a reason for actually, truly, really deleting the account.
Since that's such a severe step, and since you have multiple Google accounts, I'm going to suggest you start with an odd step for your safety.
Open a new (ideally different) browser.
Clear all cookies in that browser. This will sign out from all accounts you happen to be signed in to using that browser, including your other Google accounts.
Now sign in to the account you want to delete. Since we forced all other accounts to be signed out, you're now certain you're acting on only the one account.
Click on your profile icon in the upper right, and then in the dropdown we saw earlier, click on Manage your Google Account. On the left-hand side, click on Data & privacy.1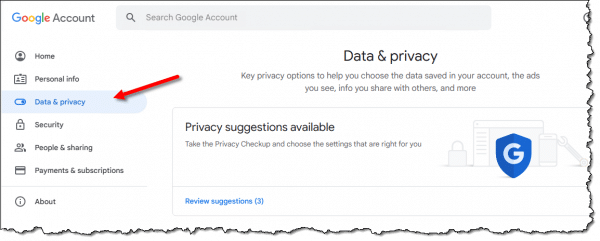 Scroll to the bottom of the Data & privacy page. There'll you'll find what you're looking for.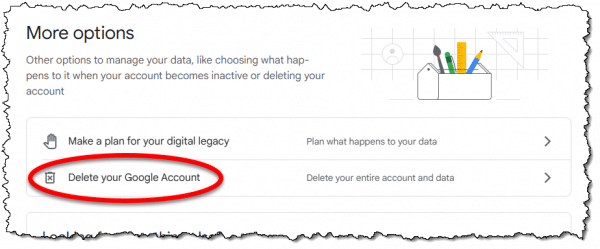 Click on Delete your Google Account to begin the process of deleting your account. (Full disclosure: I haven't completed the steps past this point because I have no account I want to delete.)
There's a good chance that Google will give you a grace period — some amount of time for you to change your mind.
Once that time has passed, though, the account is well and truly gone.
Do this
Consider simple abandonment as an alternative to deletion. If you never need it, great, and Google will clean up after you after a while. If you do need it, though, you'll be glad you have it.
Regardless of which approach you take, use TakeOut to keep a copy of everything. You know… just in case.
Use the account you're keeping to subscribe to Confident Computing! Less frustration and more confidence, solutions, answers, and tips in your inbox every week.
Podcast audio

Download (right-click, Save-As) (Duration: 7:28 — 5.4MB)
Subscribe: RSS
Footnotes & References
1: Google, like all online services, tends to change its interface from time to time. This is where it is as of this writing, but if you don't find what you're looking for, search through the various settings for "delete account."