Google-style juggling.
It's possible to use more than one Google account at the same time, though it's easy to lose track of which one you're in.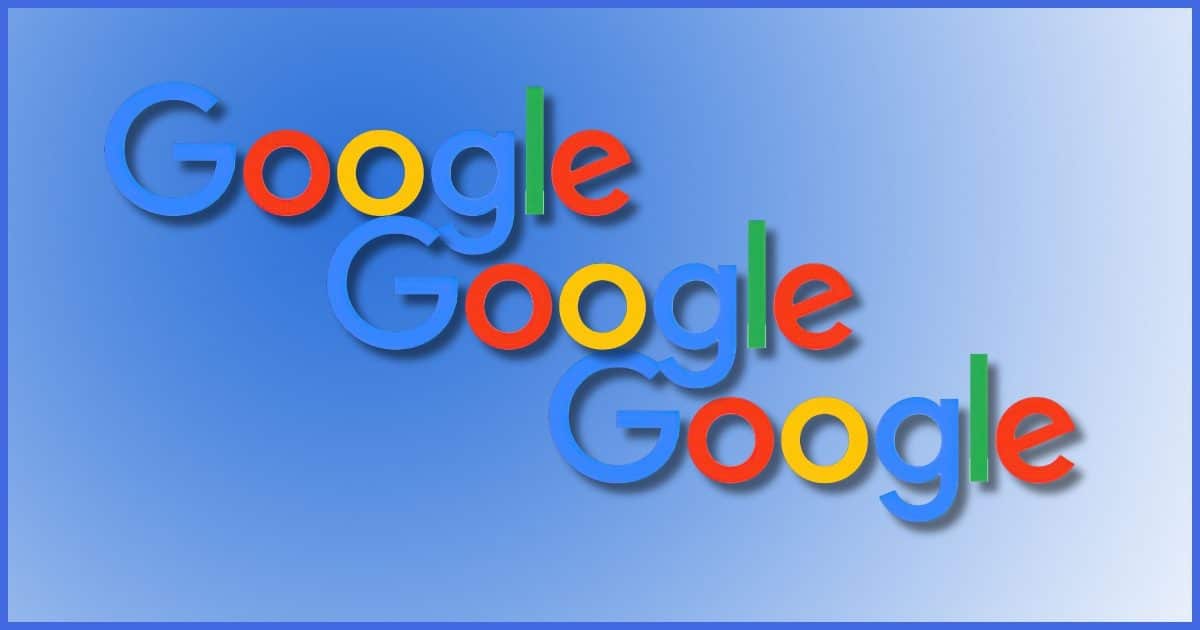 I have multiple Google accounts — personal, business, example, and more. And I manage even more for others: my wife's, that of an organization for which I'm a volunteer, etc.
So how do I keep it all straight? Well, as it turns out, Google makes it fairly easy, though it's also easy to get confused. I also have another technique that doesn't rely on Google's help at all.
Using multiple Google accounts
While signed into any Google service online, click on your profile picture and then click on Add account. This will allow you to sign in with a second (or third, or fourth, or…) account. As you switch between Google services, check your profile picture to be sure you're using the account you think you are. If not, click on that picture to select (or add) the correct account.
Add account
While signed into Google account number 1, click on the profile photo (or initials) in the upper-right corner of the page (I'm using Gmail as my example, but this should work with just about any Google service).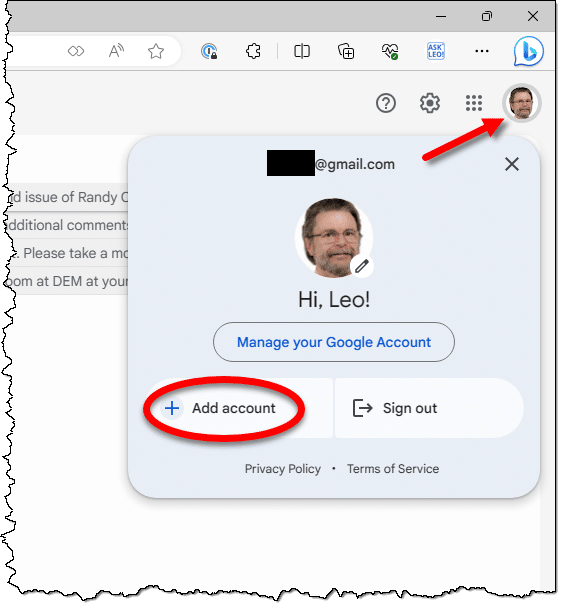 Click on the Add account link in the resulting pop-up window. This will take you to a Google sign-in page.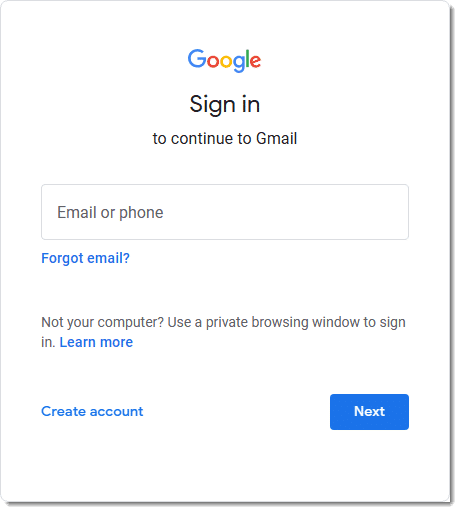 Now sign in with Google account number 2.
You will then find yourself with two tabs: one for the service signed into Google account number 1, and the other to account number 2.

That's it — except when it gets confusing.
Two accounts one tab
Chances are you'll eventually close one or other of the tabs. That leaves you with only one tab open on whichever account it happened to contain.
What if you want the other account open again? Well, Google makes it pretty easy.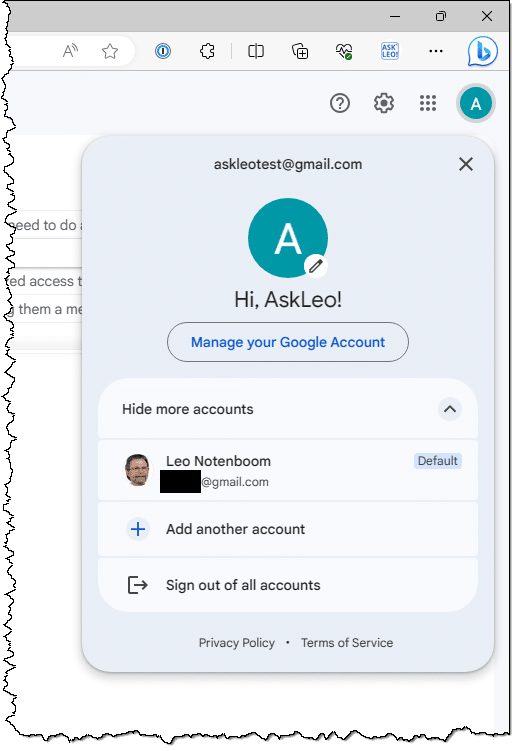 The other account has been added to the account list presented when I click the profile image. That's really what "add another account" was all about — adding the account to this list.
Click on the other account, and you'll open a new tab to that account. If you'd signed in recently, you might not even need to sign in again; otherwise, it'll ask you for credentials.
Multiple-service confusion
There are many services associated with your Google account. When switching accounts as described above, it's easy to lose track of which account you're using for which service.
Everything above — signing into multiple accounts or switching between accounts — works regardless of which service you're using.
While in account number 1, I could open a different Google service — say Google Drive — by clicking on the "waffle" icon and then the Drive icon.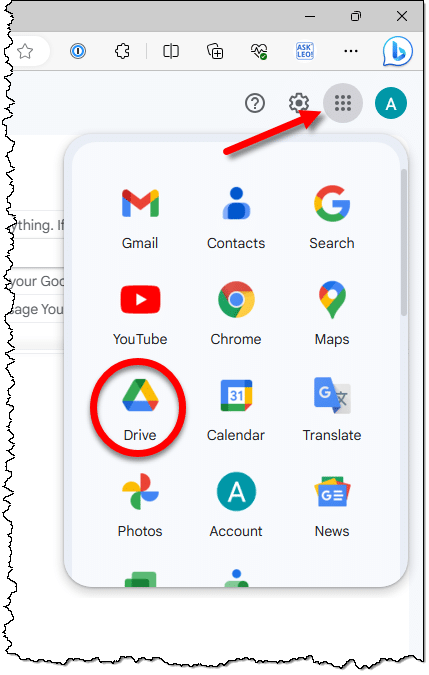 This will open Google Drive for account number 1.
If I then want to open Google Drive for account number 2, I just click on the profile icon again and select the other account.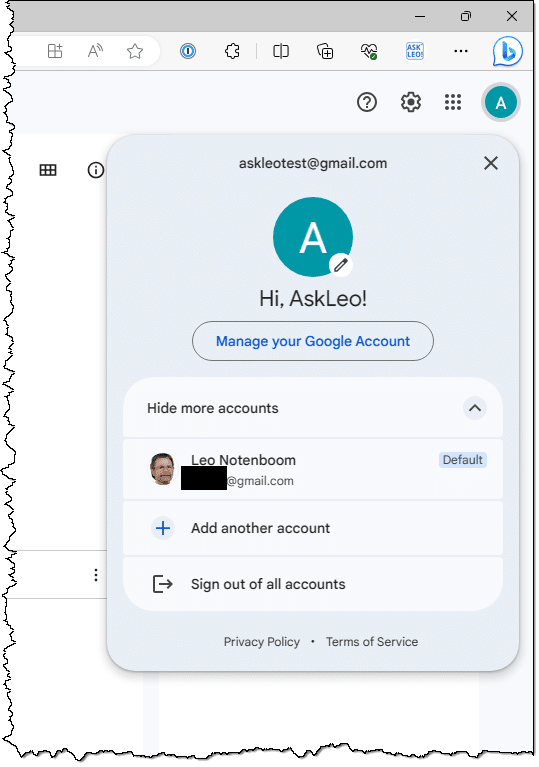 Once again, a new tab opens, this time with Google Drive for the second account.
The other approach
While I occasionally do everything I've described so far, most of the time I do something different.
I use multiple browsers.
Google Chrome is signed into my "work" Gmail account.
Brave is open and signed into my personal Gmail account.
Firefox is open and signed into the Gmail account of an organization I volunteer for.
And I've got Edge and Opera "on deck" should I need more.
Why would I do such a thing?
For me personally, it's about more than just Google services. I have several cases where I have multiple accounts with other services for my many different online roles. I simply find it easier to encapsulate each of those roles into their own browser instance. I typically have the browsers installed anyway for Ask Leo! questions, and my machine has plenty of horsepower to run them all at the same time.
In other words, it's how I choose to organize my complicated life.
Do this
When you manage multiple Google accounts in a single browser, it can be easy to get confused as to which account you're interacting with. Make sure to check the profile icon to ensure you're using the account you think you are.
Or just use multiple browsers.
Interested in more answers like this one? Subscribe to Confident Computing! Less frustration and more confidence, solutions, answers, and tips in your inbox every week.
Podcast audio

Download (right-click, Save-As) (Duration: 8:28 — 6.3MB)
Subscribe: RSS