Hi, Leo. I was leading our computer club's "Internet & More" special interest group last night. One of our attendees wanted to share how to record audio to the hard drive from YouTube content. He used Audacity's free program in the past and proceeded to show us how to find and download it. We were using Windows 7 and Firefox. We downloaded the program and started to try out some of the sound editing features. We wanted to search for a YouTube example and open up a new tab to Google. Google wasn't there.  Trovi.com search engine was there and we couldn't get back to Google.
We tried IE10 on the same computer – no luck. When we downloaded the Audacity free program, there was no option to do a custom install and unselect the extras. The only reason we had any idea what Trovi was that another of our attendees recounted his recent experience of this happening after he installed an Adobe update. He had to take his laptop to the Microsoft store. They finally got it off his computer but it took them a couple of hours.
Many people in our club are older and likely would have to ask for assistance in getting rid of this monster. I prefer to educate them on prevention. They all have real-time anti-virus software and have learned to do malwarebytes scans. We teach our users to do image backups (thank you for hounding me until I did my first one). Other than restoring my computer to an earlier time, how can we protect ourselves?
What you've experienced is something that's happening more and more these days. It's actually kind of frightening, and it's frustrating because a large part of it comes from what I would call otherwise reputable companies just trying to make an extra buck or two.
Where it comes from
I'll start with the most common thing downloaded accidentally: malware in general.
I won't say a lot about it since I think you've got that well in hand. Basically, it's what I call the litany of internet safety: keep your security software running and up to date, be behind a firewall, don't open email attachments that you're not 100% certain of, and don't believe everything you read.
What's happening lately is that companies are offering additional software along with their own – meaning you might download and install program A only to find that after installing it, you also have toolbar B, and your search engine has been changed, and your browser doesn't behave the same.
Notice that I said these companies are "offering" additional software. The offer is often hidden – sometimes very well hidden. And of course, the offer is set up such that unless you find it and say "no", you're effectively saying "yes".
We call this ride-along software foistware, or PUPs – Potentially Unwanted Programs.
Preventing it
So here's what you need to do every single time.
One, make absolutely sure that you're getting the program from the correct place. That means avoiding download sites when possible.
Personally, I don't believe Audacity itself is offering this foistware. I believe, perhaps, what happened was Audacity was downloaded from somewhere other than the official site. And some of these download sites will often wrap a download up with additional software that they then make some money from.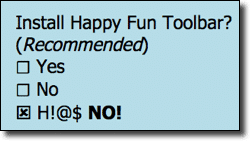 Second, whenever you run a program's setup program, never, ever, choose default options, even when they are so-called "recommended". Just don't.
Instead, always choose custom or advanced or whatever they call it that isn't the default or the recommended path. Then carefully examine every choice.
Sometimes you'll even have to scroll up and down within the dialog to see all the choices. I actually had that happen to me once. There was a dialog that looked like it didn't have anything special on it, and then I noticed there was a scroll bar. Sure enough, when I scrolled down, I found that if I had just blindly clicked on "next", I would have been accepting additional software that I didn't want.
Always be watchful
Basically, keep an eye out for anything that looks like it's offering software that is unrelated to whatever it is you're downloading. When you see stuff like that, uncheck it. There's a toolbar – uncheck it. Changing your search settings – uncheck them. Basically do everything you can to look for and opt out of the additional software that might be offered.
Now, this doesn't apply only to free software. I also recently had the experience of purchasing a utility only to find out that it too was full of these so-called "recommended special offers". (They're not recommended and they're certainly not special!)
So, the bottom line is exercise extreme caution and take your time installing anything, no matter where it comes from.