Question: Cortana. Don't use it. Don't want it. Want her (it?) to go away.
There are registry hacks around that will actually disable Cortana. However, I don't think they're generally necessary for the average user who just wants Cortana hidden.
Instead, there are a few settings that will get 99% of the job done. It's just not obvious where they are.
Cortana settings
Before we make Cortana disappear from the task bar, we'll deal with a few simple settings that control what Cortana does. We'll set those so Cortana does almost nothing.
Click on the Cortana search box or icon in the taskbar, and after the Cortana menu comes up, click on the gear icon on the left.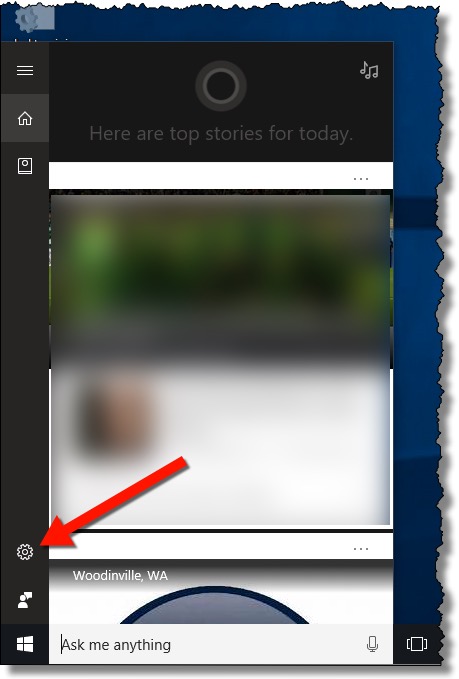 This will bring up a menu of options relating to Cortana and search.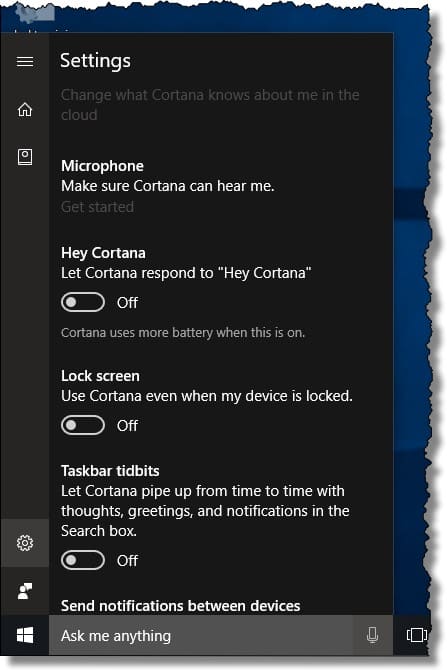 If you're trying to turn Cortana off completely, we'll start by turning off, or opting out, of every option here.
Let Cortana respond to "Hey Cortana": Off
Use Cortana even when my device is locked: Off
Let Cortana pipe up from time to time…: Off
Send notifications between devices: Off
Show my apps, settings, web, search, and other history in Cortana home: Off
My device history: Off
Search online and include web results: Off
My search history: Off
These changes all take effect immediately. If some look interesting, you can leave them on. As I said, we're not disabling Cortana completely here, just making her less obtrusive.
Hide Cortana on the task bar
Now that we've set the settings the way you want them, we can make Cortana disappear from the task bar.
Right-click on the Cortana search icon or search box in the task bar, and hover your mouse over the Cortana entry in the resulting menu. A sub-menu will appear that includes the option we want. Click on Hidden.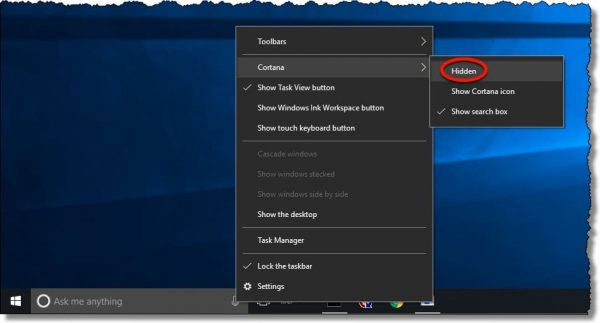 The Cortana icon and search box will disappear from the taskbar.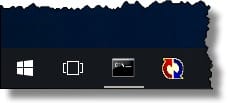 Podcast audio

Download (right-click, Save-As) (Duration: 3:15 — 3.1MB)
Subscribe: RSS
More for Patrons of Ask Leo!
Silver-level patrons have access to this related video from The Ask Leo! Video Library.
  Hide Cortana and the Task View Button