Question:
My C drive has 465GB and E reserve drive maybe 100GB
I do not have any unallocated space anywhere
Therefore I cannot partition the hard drive
I want a partition with 100GB to put Windows 10 on it
If you have enough free space on your C: drive, then creating a new partition is actually pretty simple.
I'll show you the steps using Windows 7's Disk Manager.
Free Space
I need to reiterate the need for free space on your C: drive. While the C: partition may take up 465GB on your machine, if you want to create a 100GB partition, you'll need to have at least that much – ideally more – unused space within your C: drive.
And yes, that means you'll need to make room by deleting files if you don't.
Filling up a 465GB drive these days takes a bit of work, so I can't really guess as to what on your machine might be using up all that space – if indeed the drive is full of data. What I can recommend is that you check out my article Where's my disk space going? for a tool and process to help identify what's using the most space.
Then decide what can be deleted, or perhaps moved off-line, to free up space on your C: drive.
If your C: drive has over 100GB of free space, then you're in good shape.
Defrag and defrag again
Before you begin, I recommend defragging the disk. In fact, I recommend you run defrag a couple of times.
The issue here is that making files contiguous – the defragmenter's primary function – isn't enough. We actually need to move as many files as possible to the "front" of the disk. Defrag will do this as well, just not very efficiently.
Depending on how fragmented the files are on your machine, you may need to run the defragger multiple times. We'll see in a moment exactly how we'll know when we've done it enough.
Shrink the C: volume
We start by shrinking the C: drive which will take it from its current size to something smaller. In your case, you might take your 465GB C: and shrink it down to 350GB, freeing up over 100GB that we can then use for something else – like a separate partition.
Start by pressing the Windows Key plus R, and running diskmgmt.msc.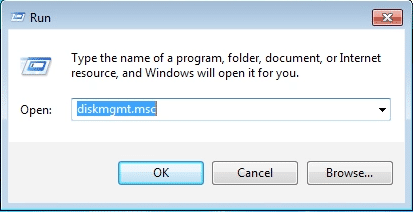 In Disk Manager, right click on the C: drive and click on Shrink Volume.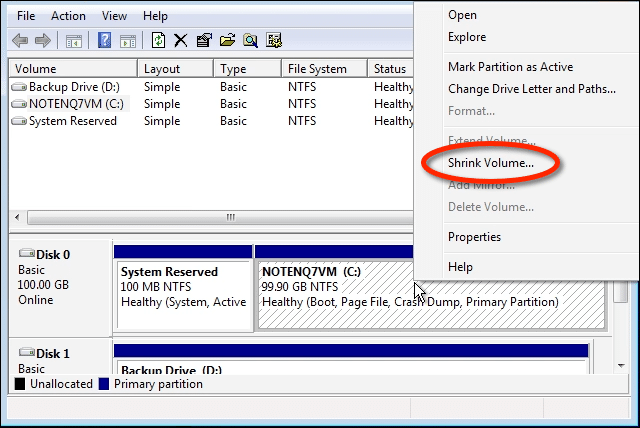 Disk Manager then examines the volume.

Disk Manager is looking to see, given the way that files are currently laid out on the drive, how much smaller the drive can be made.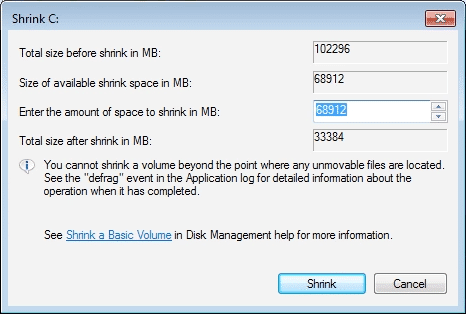 My 100 gigabyte example drive (102,292 megabytes, to be precise) could be shrunk by as much as approximately 68 gigabytes, which would leave the existing drive at a smaller 33 gigabytes in size.
This is where you might need to go back and defragment again.
If:
The "Size of available shrink space in MB" is less than you need, say 100 gigabytes, or around 102,400 megabytes
And:
There is still enough free space on the C: drive to make up the difference
Then defragmenting again is the only course of action. In fact, you may need to repeat the defragmenting until the available shrink space is as large as you need or larger.1
Enter the amount you want to shrink the drive – I've selected 50,000 megabytes, or about 50 gigabytes, in my example. Click on Shrink.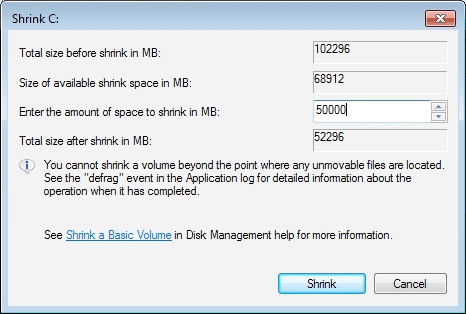 After a few minutes, you'll be returned to Disk Manager, displaying two partitions where the old C: used to be: a new, smaller C:, and unallocated space.

Create the new volume
In order to actually use the unallocated space as a partition, we need to create a partition and format it.
Right click on the unallocated space, and click on New Simple Volume.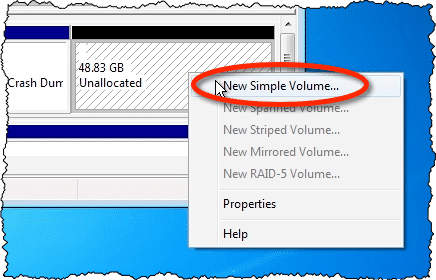 Click on Next to enter the resulting wizard, and you'll be given the option to specify a size for the new partition.
The default is to use all available space, which is exactly what we want. Click Next.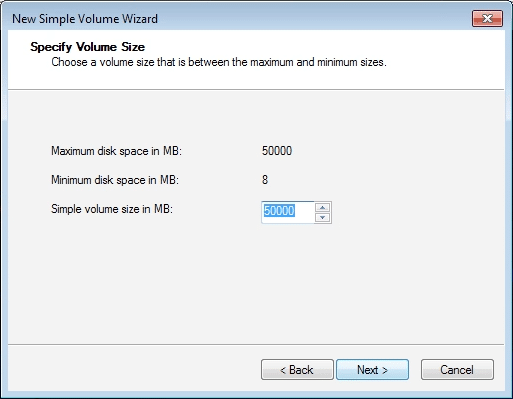 You'll be offered the ability to assign the new partition a drive letter. The default is typically good enough, so click Next again to be taken to formatting options.
Once again, the defaults are probably just fine, though you might want to give the drive a different label to more easily identify it in Windows Explorer later.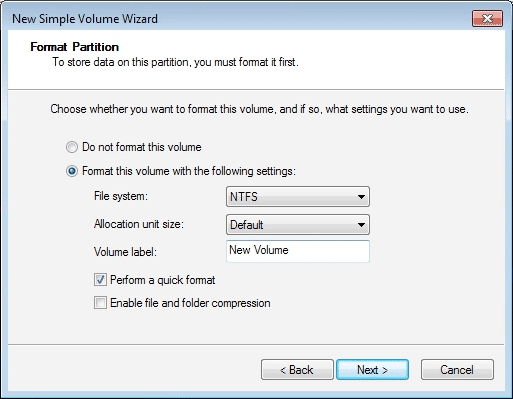 Click Next to view a summary page, and then click Finish, and the new drive is formatted and made ready for use.
You can then open Windows Explorer to confirm that the new partition has been created.

About Windows 10
You'd indicated that this was so you could install Windows 10 in a separate partition.
I gotta say, I'm not a fan.
I'm OK with testing Windows 10; it's the dual-boot scenario I'm reluctant to recommend. I've seen it confuse and cause problems for some people. If it works for you, that's fantastic, but I prefer either of two other approaches:
Backup, upgrade, and test in place. If it's not to your liking, restore the backup image.
Install Windows 10 in a virtual machine.
I've done the latter.
Be aware that an install into a separate partition is considered a "clean" install, and will not qualify you for the free upgrade. Only the upgrade path I've listed above can do that.
Video
Podcast audio

Download (right-click, Save-As) (Duration: 5:59 — 5.6MB)
Subscribe: RSS