A few minutes ago I scanned a page on generators from a Harbor Freight catalog and sent it to my son using Gmail. A few minutes later I got an email from Harbor Freight — in Yahoo, via Thunderbird  — with this subject line: "You Can Rely on These Predator Generators on Sale Now."
How does this happen? How does Harbor Freight know that I'm thinking about generators? Seems like there's something on my computer monitoring my outgoing emails and alerting sellers to send me an ad on the item.
Or is it my son's computer that's doing it?
Either way, it's creepy and something I'd like to stop.
I understand it feels creepy, but many aspects of what you describe represent the "cost" of free services like Gmail and Yahoo! Mail: advertising.
There's not enough information for me to say exactly what happened, but I'll describe some possibilities. There's also one aspect of it I can't explain at all.
Typing was probably involved
Even though you scanned a catalog page, I'm betting that you typed the words "Harbor Freight" and "generator" either as part of the email you sent or in some of your research.
Typed into a search engine, those words indicate your interest.
Typed into an email message — perhaps "Here's a Harbor Freight page on generators" — it tells the email interface of your interest as well.
That both of these were likely Google makes this side of the equation easy to understand.
Targeted ads that follow you
We've all experienced this: perform a simple search for something and you start seeing ads for it, even on completely unrelated sites.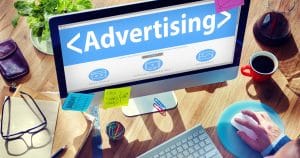 Similarly, visiting an online retail site to research something can result in ads featuring that topic appearing seemingly everywhere.
What's happened is that an advertising network has collected a tiny bit of information: the person using this computer might be interested in "X".
When that same advertising network is used on other websites, and recognizes it's getting a request from the same computer, it says, "The person using this computer was interested in X earlier, so let's see if we have any ads for X — maybe they're still interested."
That you used Gmail, and perhaps also Google Search, means you probably told Google you're interested in X — in your case, generators from Harbor Freight. Google runs one of the largest advertising networks on the internet, so it's no surprise Google would show you related ads on any website that displays ads provided by Google …
… possibly including Yahoo! Mail.
Ads in email, sort of
I just took a look, and it appears that at least some of the ads in the Yahoo! Mail web interface are provided by none other than Google's advertising services.
That means it's entirely possible that your use of a Google service to research or discuss something could result in ads for that topic alongside your Yahoo! email.
Note that these aren't email messages — they're ads that appear alongside the email or elsewhere in the web-based email interface.
It's about your computer, not you (mostly)
I chose the wording "the person using this computer might be interested in X" on purpose. What generally happens is that a cookie is left on your computer when an ad is displayed. The cookie allows the advertising network to provide similar ads to the same computer, regardless of what website you happen to be visiting.
While it's possible to also track you, specifically, via the accounts you log in with (such as your Google account), such tracking is less likely at play in the scenario you outline. While Yahoo! Mail might use Google ads, they wouldn't pay attention to the Google account you logged into earlier.
The fact that you're using the same computer for all this is a common element across all the advertisements you see. Switch to a different computer and things may change.
It's an inexact explanation
I say "may" change, because ad networks are certainly capable of using more than cookies. They may use something else — some other characteristic of your computer usage — to target ads. As a result, even switching computers might somehow result in advertisements following you, even though the cookies tracking you on the first computer can't tell the second computer a thing.
Most commonly, it's when you're logged in to a common account across all machines. For example, I'm always logged into my Google account. I fully expect Google and its advertising services to present me with advertisements it feels are relevant to me, regardless of what machine I happen to use.
That's why I say it's impossible to say exactly what happened in your situation. It's not that you haven't provided enough information; it's that you can't. Understanding what techniques ad networks use in these scenarios calls for highly technical and complex analysis.
An unexplained piece of the puzzle
I can explain ads on web pages that seem to "follow" you.
I can't explain getting email.
That after sending an email on a topic using one email service (Gmail) you then received an explicit advertisement for that topic, in email form, on another email service, doesn't fit any scenario I'm aware of.
One thing missing from my explanations above is your email address: nowhere is it given to anyone. Websites cannot get your email address unless you explicitly give it to them. That means ads have no way to know where to send subsequent follow-up email.
So I don't know what sequence of events led to your getting the targeted email.
Most often when folks bring scenarios like this to me, it turns out they have an account (with Harbor Freight, in your case), and were browsing the website earlier. That account means the company has your email address, and browsing their site certainly lets them know what you're interested in. It's quite possible they might elect to send you an email about the product you displayed interest in at the website.
What I don't suspect
I don't suspect malware.
It's highly unlikely there's something on your computer monitoring your email and using that to send you email. Most malware is significantly more direct or sneaky than that.
Of course, it's always good to run a thorough and up-to-date anti-malware scan on your machine.
It's possible this is simply coincidentally-timed spam — are you certain that the email came from Harbor Freight? — but all things considered, that would be so extremely coincidental as to be highly unlikely. Spam is typically more random and off-target than that.
Avoiding this altogether
If you want to completely avoid ads that seem to "follow you" in one form or another, the news isn't good. Ultimately, the solution is to avoid the internet, and that's not practical.
The reality is that internet advertising makes it possible for so much to be completely free. Advertising is the "cost" we pay for those free services. Advertisers use techniques to increase the likelihood of your clicking on an ad; that's them doing their job. Knowing you might be interested in X and then showing you ads for X is nothing more than that.
Honestly, it doesn't bother me one whit, and I feel that concerns about this type of tracking are generally overblown.
Certainly, you can use an adblocker. This will help somewhat, but because of the number of different techniques advertisers and websites use, it won't be perfect.
You could become obsessive about clearing cookies. The internet will become a very unfriendly place if you do so, however, as many sites remember your log-in state or your preferences in cookies. Erase those, and you'll find yourself logging in repeatedly as well as losing any preferences you set.
As I said, I can't explain the email, but everything else is pretty much what I expect and simply choose to live with as part of the "price" of the free services we rely on.

Podcast: Download (Duration: 9:00 — 4.2MB)
Subscribe: RSS