The Windows 10 "Creators Update" is slowly rolling out via the normal Windows Update channels.
If you're impatient (like me), here's how to get it now.
Prepare
Get your Windows 10 machine as up to date as you can before you begin: run and accept all updates currently available via Windows Update.
Click on the Start button and type "updates". When it appears, click on Check for updates.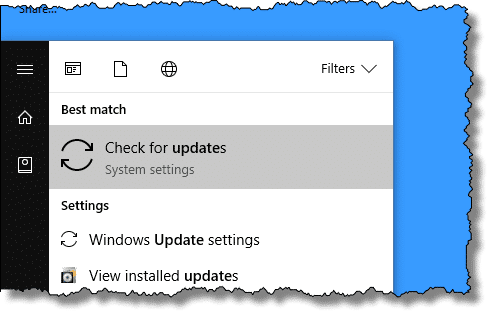 This will bring you to the Windows Update page and display any updates available. Install them now. (Since you're reading this article, I'll assume you've not yet been offered the Creators Update as part of the normal update cycle.)

After the updates complete, you have one more important step before installing the Creators Update: BACK UP YOUR COMPUTER.
This is important, of course, but more so with a major update cycle such as this one. While it's extremely unlikely you'll experience a problem with the update, there is a small chance. A full image backup is your ultimate safety net should something go wrong.
Get the Update
I expect this process to change as the update rolls out more widely, but for now, here are the steps to get the Creators Update.
Close all programs you happen to be running, and return to Windows Update. This time you should see "Your device is up to date".
You should also see information about the Windows 10 Creators Update being available, and a link labelled "Yes, show me how" if you want to be "one of the first to get it".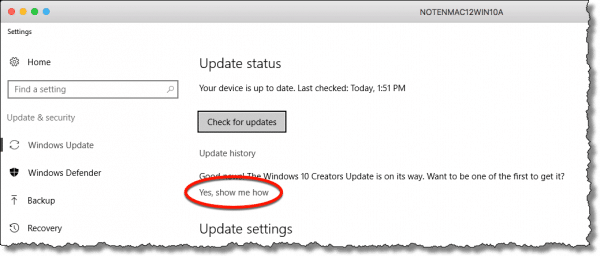 Click on Yes, show me how.
This will take you to a web page on the Microsoft site. In the text on that page is a link to Update Assistant.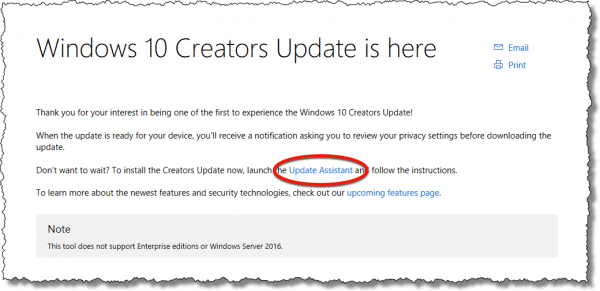 Click on Update Assistant to download the Update Assistant to your machine. Run it when the download completes, and click on Update Now.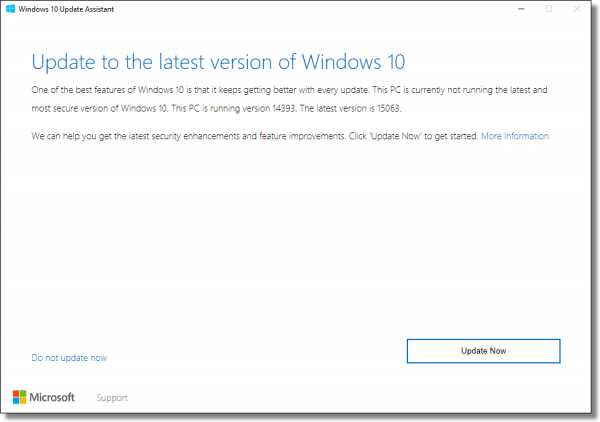 The program then checks the compatibility of your machine and installed software. Assuming all requirements are met, click Next.
The update proceeds.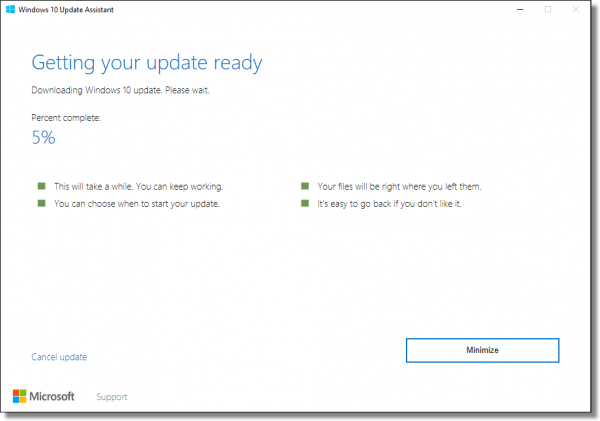 This is a large update, and can take some time. It will also reboot as part of the process. When complete, you'll be walked through privacy settings once again (be sure to scroll down that page; there are more settings than are initially displayed), you'll be offered Cortana, and possibly shown a page about the built-in Windows 10 apps, after which you'll have a brand-spanking new Windows 10 Creators Update.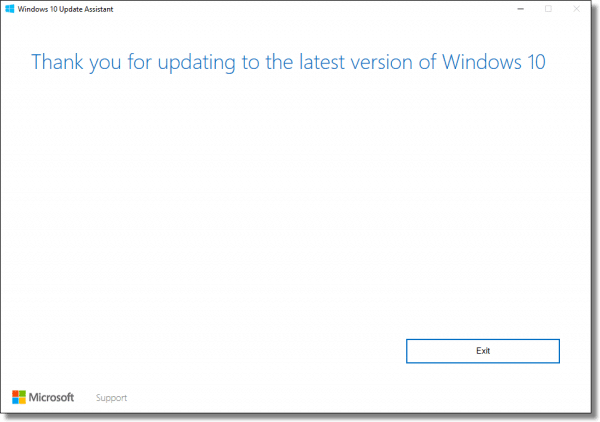 Leave a comment below and let me know how your update goes, and what you think of it all.