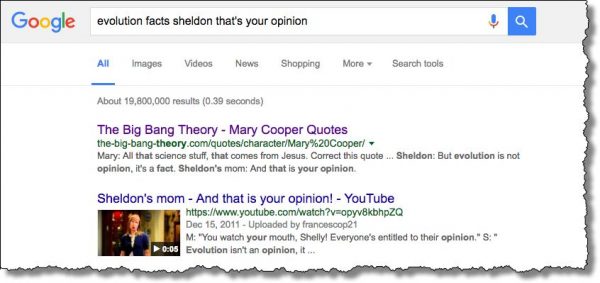 People make two types of mistakes when searching the internet: they're much too specific, or much too general.
The "sweet spot" is somewhere between the two, of course. Or perhaps it's to be both general and specific.
I ran into this recently as I was researching something for a personal blog entry. I knew some, but not all, of a quote from the popular television show The Big Bang Theory. My post discusses the confusion between fact and opinion, and I recalled a scene from the show where the main character's mother said something to the effect of "and that's your opinion" to a statement her son, Sheldon, stated as fact relating to evolution.
Not a lot to go on, but if you pick it apart, there are several search-worthy terms:
I was pretty sure that the topic was evolution.
I knew that the word "fact" was used.
The main character in the scene I was looking for is named "Sheldon".
I was pretty sure that the response was along the lines of "that's your opinion".
That seems pretty messy, and in a way, it is. It's a combination of some vague generalities with what specific tidbits I could remember.
So I searched for "evolution facts sheldon that's your opinion". No punctuation; nothing even indicating order of appearance; just the general and specific words and phrases I could come up with.
As the image accompanying this tip shows, I got it in one: both the quote and the video clip.
The tip? Think a little about what you're looking for, and don't be afraid to be both general and specific in your search.
For the record, the full quote is:
Sheldon: But evolution is not opinion, it's a fact.
Sheldon's mom: And that is your opinion.
Related Video