When I did my backup I got this pop up message. "Checking the partitions found errors on two partitions without drive letter (Unknown Partition). Click 'OK' to create a sector by sector backup or 'Cancel' the backup." I did the sector to sector. Did I do right?
Yes, but we might want to do a little more.
The problem here is that EaseUS has detected a problem with your hard disk. The good news is that this problem is not in any partition you use regularly.
But hard disk problems still make me uncomfortable, and it's possible that this type of problem could impact your ability to perform certain types of recovery in the future.
It means what it says
The error message means exactly what it says: EaseUS Todo found errors on one or more partitions on your hard disk.
Hard disks are often divided into partitions for a variety of reasons. One common one is that manufacturers use one or more partitions to store system recovery tools, diagnostic tools, and sometimes even a pristine copy of Windows that can be used to reset the machine to factory defaults.
Often those partitions are hidden, meaning that unless you take additional steps, you'll never notice they're there. Being hidden, then, they're not assigned a drive letter. The only visible partition on your hard drive might be your "C:" drive, or perhaps other recovery drives1.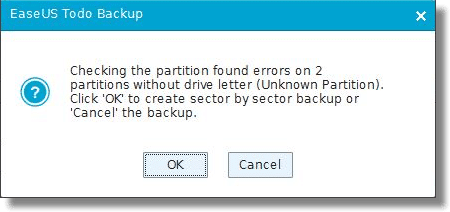 So, what the error message is telling you is that in one of these partitions you normally don't see, either:
A hard disk error has been detected.
EaseUS Todo was unable to understand the format of the data in that partition.
I believe it's most commonly the latter, but there's really no way to know for sure.
Sector by sector?
My recommended approach to creating a backup image is to back up "file by file". That means that the backup image contains every file and folder, and all overhead information that's stored in the partition. The advantage to the file-by-file approach is that it takes less space. Only data actually stored in the partition is backed up; empty areas are not.
In order to do this, of course, the backup program must be able to reliably read the partition and understand how the files are laid out. The error reported means EaseUS is not be able to reliably do that.
A sector-by-sector backup ignores files, folders, and pretty much anything related to what's actually stored in the partition. It just methodically and completely backs up every corner of the partition whether or not it actually contains data. The good news here is, the backup program doesn't need to understand what's in the partition. The bad news is, the backup image will be much larger.
A file-by-file backup of an empty partition will be very small – just enough data to indicate the size of the partition, how it was formatted, and then say "there's nothing here". A sector-by-sector backup of an empty partition will be as big as the partition's entire capacity.
Before proceeding further, I do recommend that you let Todo make that sector-by-sector backup. That way, you'll at least have some kind of backup of these otherwise damaged partitions.
You then have three options moving forward.
Option 1: ignore the error
It's not quite as crazy as it sounds.
Since these hidden partitions are presumably used only for recovery – something you also have covered separately, by virtue of your image backups – the errors should not affect your day-to-day operation. Thus one approach is to simply ignore the error.
Each time you back up the entire drive containing these partitions, you'll likely have to "OK" the sector-by-sector backup for the partitions with errors, but as long as those are always and only the hidden partitions, that's about as good as you can get without taking further action.
Option 2: ignore the error and only back up C:
Since we've backed up the partitions with errors at least once, with another approach we can at least remove the annoyance of having the back-up software wait for our "OK" each time.
First: save the backup image you took that includes the sector-by-sector backup. Copy it somewhere safe, or simply remember to never delete it from wherever it's stored. In the unlikely case we ever want to restore those partitions that had errors, we'll have this backup to revert to.
Second: alter your backup definition, or plan to back up only the partitions without errors. Unfortunately, if you have multiple hidden partitions, you may not know which ones had the error. That's OK, because they're all backed up in that back-up image we just saved. All you really need to back up now are the partitions you use regularly. The safest approach is to back up all the partitions that have drive letters associated with them. In EaseUS Todo, that means first checking the drive to indicate that it should be backed up, and then unchecking each of the unnamed "other" partitions.
This is probably the most pragmatic option.
Option 3: attempt to repair the error
Attempting to repair the error is the most complex approach, and may or may not even be possible, or help if it is.
What we want to do is to run CHKDSK on the partition that has the error. That may detect and correct the error.
We first have to "unhide" the partition by assigning it a drive letter. This may or may not be possible, depending on the specific type of partition in question.
Click on Start, then Run (or hold down the Windows key and type "R"), enter diskmgmt.msc, and click on OK.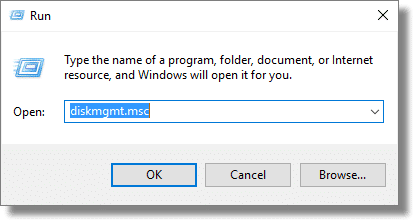 This will launch the Disk Management tool. Locate the partition without a drive letter, and right click on it. Click on Change Drive Letter and Paths… (If it is greyed out, then this approach to dealing with the error is unavailable to us. There's nothing more we can do.)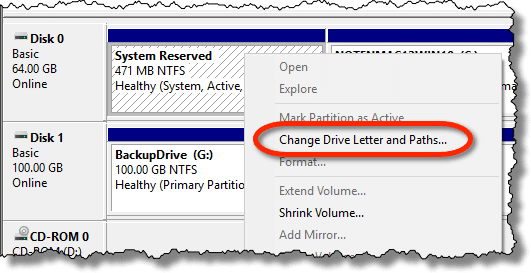 Click on Add…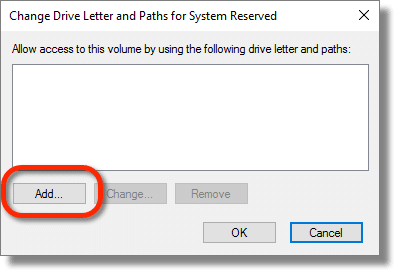 The program will default to assigning the next available drive letter. Just accept that for now by clicking on OK.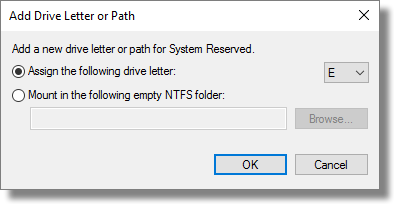 What you'll find is that you now have an additional drive on your system visible in Windows File Explorer that is this previously hidden drive.
Leave the Disk Manager open; we'll return to it shortly. Fire up an Administrative Command Prompt (this varies, but in Windows 10, right-click the Start menu and click on Command Prompt (Admin).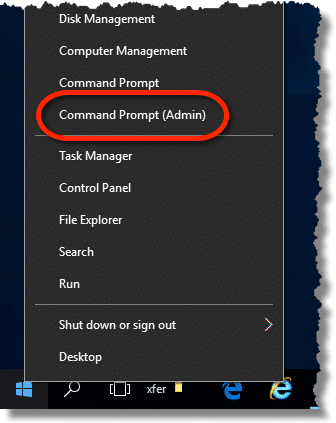 After clicking OK on the UAC prompt (not shown), into the command prompt, type:
CHKDSK /R E:
where "E:" is replaced by the letter that was assigned to your previously hidden partition. Click the Enter key. CHKDSK will run, analyze, and attempt to repair any errors found.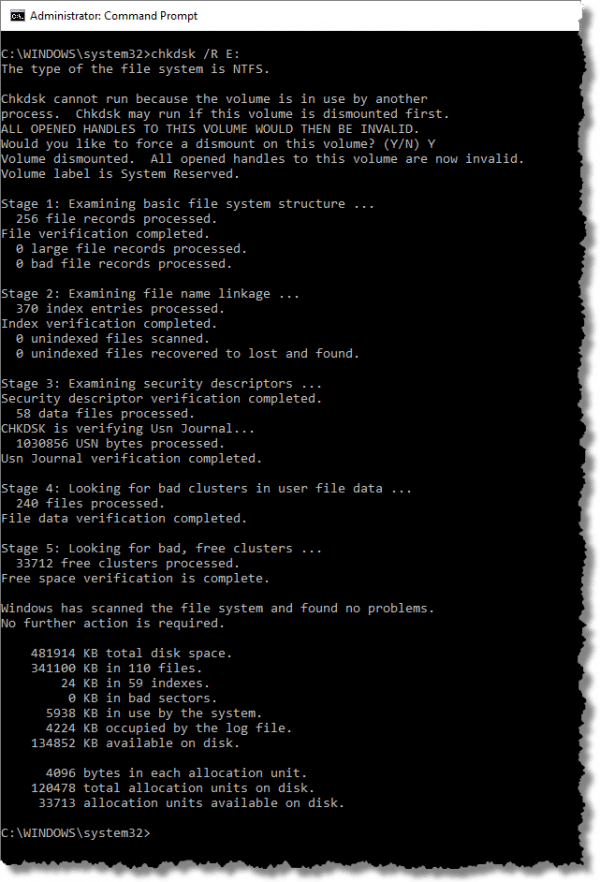 If CHKDSK complains about files being open on the partition, as it did for me, simply answer yes to the question on whether all files should be closed to allow CHKDSK to run.
Back in Disk Management, right-click on the drive again, and click on Change Drive Letter and Paths… as we did before.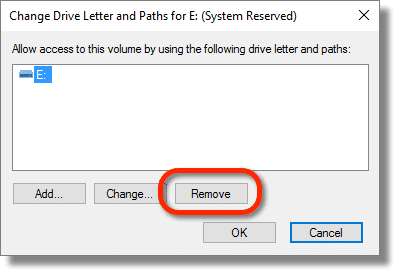 Click on the Remove button to remove the drive letter assignment we made.
Repeat this procedure – assign drive letter, run CHKDSK, remove drive letter – for each of the hidden partitions on the hard drive.
This may not work for some partitions. They may not actually be formatted in a way that Windows will recognize. If Windows asks if you want to format one of these hidden partitions, don't.
This means the previous options of ignoring the error, or backing up only your visible partitions, are your only alternatives.