There's been a tremendous amount of discussion relating to the amount of data kept, shared, sold — and occasionally leaked — by large service providers like Facebook and Google.
Regardless of how you feel about it, it highlights something I believe is important to realize: these services collect a lot of data. We may never know just how much is being collected or with whom it is being shared.
However, both Facebook and Google allow you to download data they've collected relating to your account. It's unlikely to be everything, but even so, it's a heck of a lot. It's worth understanding what they have.
Downloading Facebook data
Log in to your Facebook account1, click on the down-arrow on Facebook's top menu bar, and click on Settings.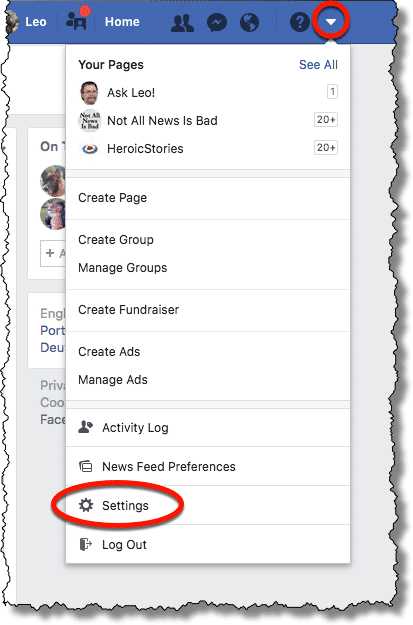 On the resulting page, click on Download a copy to initiate the creation of your download.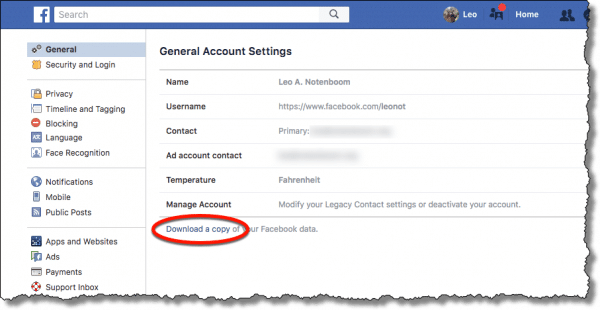 This will present a summary of what you'll get, with a Start My Archive button. Click on that.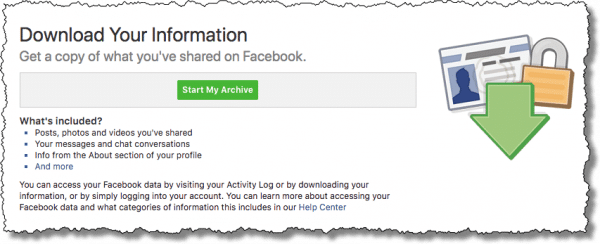 You'll get a note that the download will take a while.

Mine was ready in a couple of hours.
Downloading Google data
Visit takeout.google.com. You'll be shown a list of the various sources of data that exist. You can select all categories, or only a subset.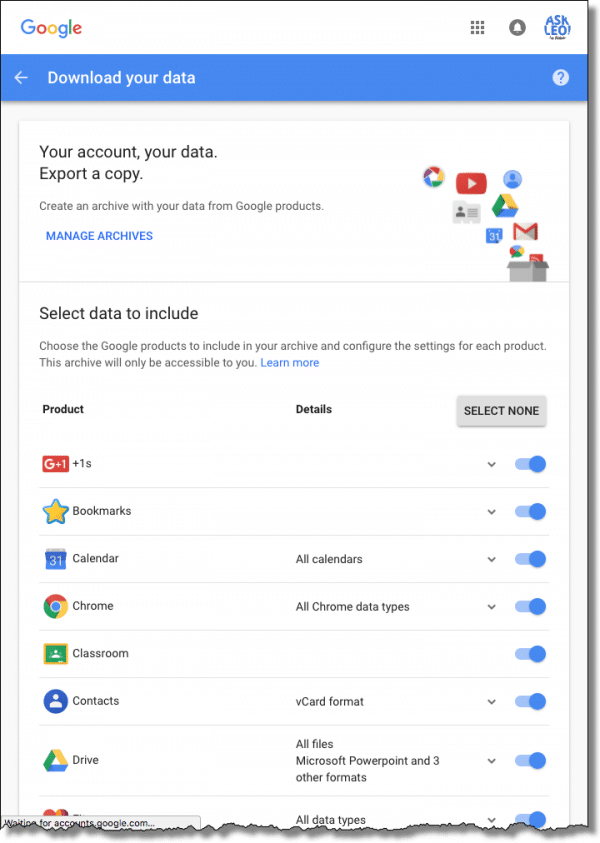 Once you've made your selections (if you're not sure, leave all selected), click Next at the bottom of the list. This allows you to choose the format and delivery method of the information.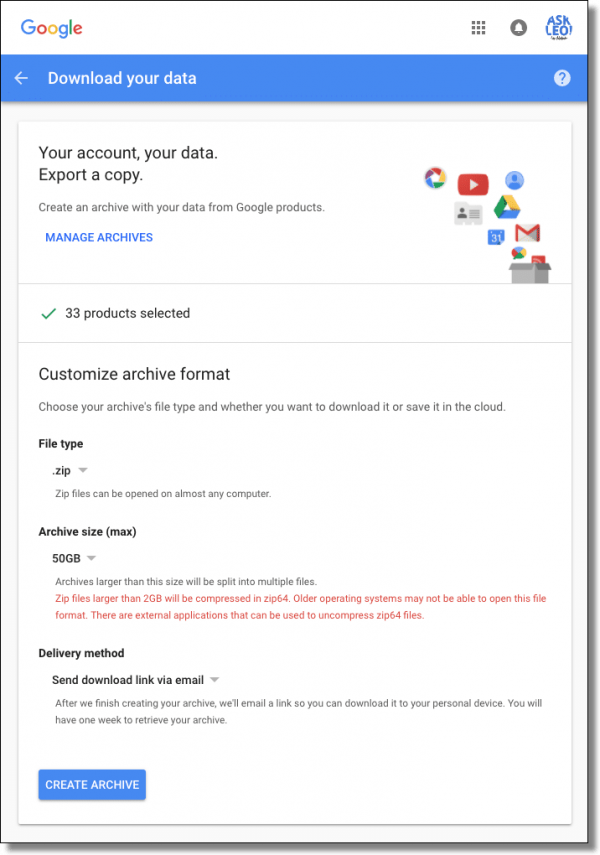 I selected .zip format — a single large file – and to have that file delivered as a download link via email. Click on Create Archive.
Depending on the amount of data, it can take a couple of days for the archive to be created.
Examining the data: Facebook
Eventually, you'll get a message that your download is ready.

Follow the provided links and instructions to download a .zip file containing your information. The file will likely be large, depending on how long you've been on Facebook and how active you are. I've been on for almost 10 years, and am certainly not as active as many people; my zip file was about 180 megabytes in size.2
Your Facebook account contains an amazing collection of information. A few highlights:
Ads you've clicked.
Ad Topics: a list of topics you may be targeted for, based on your stated likes, interests, and other data you put in your Timeline.
Chat History
Friends, Friend Requests, Deleted Friends
Likes
Login history
Phone Numbers
Posts, Photos, & Videos
Your personal information
You can find the full list of what's included in this Facebook help page. It's extensive.
Extract or examine the contents of the file in Windows File Explorer and you'll find an "index.htm" file.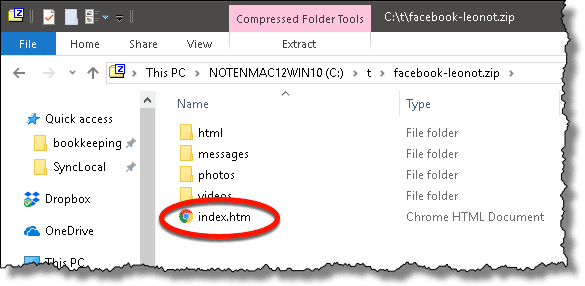 Double-click on the index.htm file to open it in your browser. This is where the fun begins.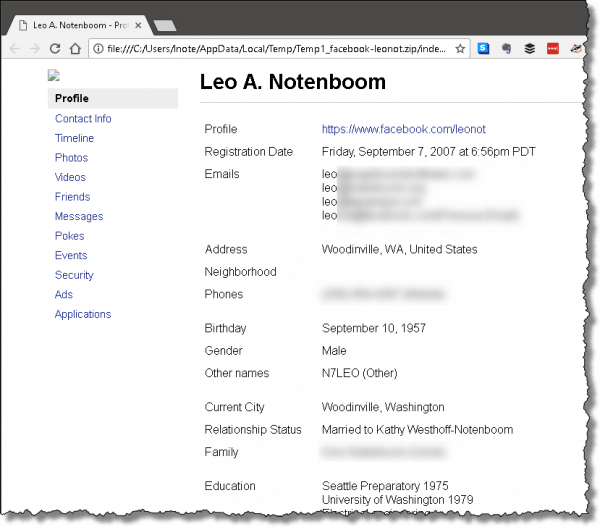 I know I had a surprise or two as I browsed.I think you'll be surprised at how much there is, what's been kept, and for how long.
Examining the data: Google
Much like Facebook, you'll receive an email with download instructions for your.zip file, and once again, it'll be large — perhaps much larger than you expect. My personal Google "takeout" zip file is over 17 gigabytes in size. If the file ends up being too large for you to download you may want to consider selecting only subsets of the data and/or downloading each individually.
Your Google data will contain, at a high level:
+1s – the +1 Button clicks you've made over time.
Blogger – All blogs created in your account
Bookmarks
Calendar – All calendars
Chrome – Autofill, Bookmarks, Browser History, Dictionary, Extensions, Search Engines, Sync Settings
Classic Sites
Classroom
Contacts
Drive – All files
Fit
G Suite Marketplace
Google My Business
Google Pay Send
Google Pay – rewards, gift cards, & offers
Google Photos – All photo albums
Google Play Books – All books
Google Play Music
Google+ Circles
Google+ Pages
Google+ Stream
Groups
Handsfree
Hangouts
Hangouts on Air
Keep
Location History
Mail – All mail
Maps – Your places
My Activity
My Maps
Profile
Search Contributions
Searches
Tasks
Voice
YouTube – Chats, History, My Comments, Playlists, Subscriptions, Videos
You may not recognize some of the services available if you've not used them, or they're no longer available and present only for historical completeness.
Unlike Facebook, there's no single ".htm" file to click on, just folders … lots of folders; generally, one per Google service.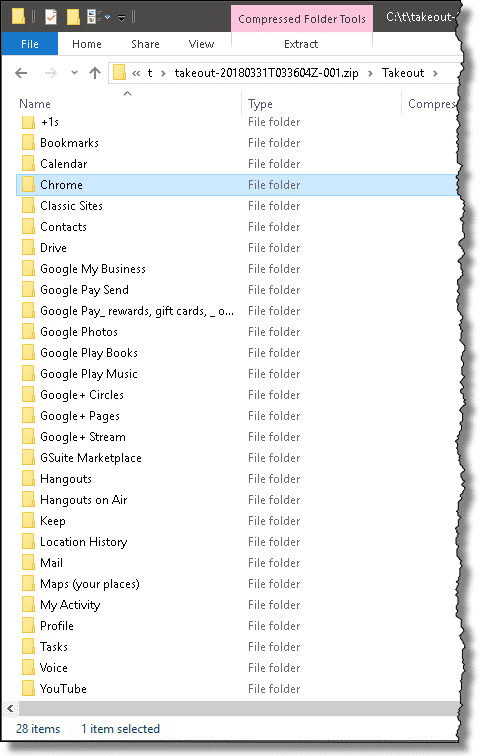 Most folders do contain some kind of .html file you can open to view the folder's contents in some meaningful way. In some cases — most notably the "My Activity" folder — the actual data you care about may only be in an .html file.
It's hard to overstate the depth and breadth of information represented here. I'd strongly encourage you to spend some time browsing the contents. The "My Activity" folder might be the most enlightening. As examples, here are two very random data points from my own activity:
My first recorded search, fourteen years ago: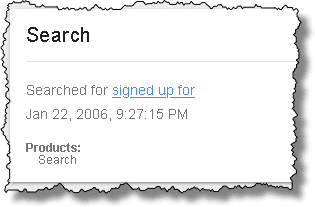 My search on Google maps while I was in The Netherlands a couple of years ago:
Spoiler: there's a Starbucks there.
From my uploads to my searches to the websites I visited in Google Chrome, and much more, you can imagine 14 years of information adds up to a lot.
It's not about panic; it's about making informed decisions
Regardless of your feelings about the amount and type of data Google saves, it's important to know that it's being saved, and what is being saved.
This will allow you to make more informed decisions about how to use these services in the future.
I've been very intentional about my Google and Facebook use. I'm well aware of the amount of data I give them every day — directly, by my use of their service, and indirectly, by the various mechanisms with which they collect and aggregate data. I make decisions on what to do, use, or share with that knowledge in mind. In return, I feel I get a tremendous amount of value from their services. I'm not at a point to say whether it's a fair trade or not, but at least it's something I'm walking into with open eyes.
You may, of course, feel differently.
Now that you have some idea of what information is routinely being saved "for you", you may elect to curtail or even stop using the services provided by Google and Facebook. Or you may take my position and carry on using the services with an appropriately skeptical eye.
Either way, it reveals that online services — any online service — has access to everything you give it, which is often much more than we realize.
Podcast audio

Download (right-click, Save-As) (Duration: 7:56 — 7.3MB)
Subscribe: RSS
Video Narration