Several media outlets are reporting that some, though not all, Windows 10 upgrades to the 1809 October update have lost data files in the process. It's apparently a bug in the update. While it's unclear how many people are affected, even if it's just a few, it's a bad thing.
There are steps to take to prevent data loss. Hopefully, you're already taking them.
The update cannot be deferred for Windows 10 Home.
Back up everything — most importantly your data — prior to the update.
Consider taking the update now, rather than at some random time in the future.
Update
Deferral is not an option for most
Windows Update continues to push updates to Windows 10 whether you want them or not. This assumes that all updates always work, which clearly remains a bad assumption.
Windows 10 Pro users have the ability to defer major updates, as do business and other large installations of Windows 10.
Windows 10 Home users — the vast majority of "average" consumers — do not have a choice. The update will happen when the update happens. The only option is to be prepared.

Preparing for the update
The only protection from the possibility of data loss is to back up prior to the update. That means one of three things:
Relying on the daily backups you already have in place. (Good on you!)
Periodically taking a full image backup of your machine, or setting up those daily backups to do exactly that.
Reports seem to indicate that files in the default Documents folder are those at risk. That's not an assumption I'm comfortable making, however, and I recommend backing up all data files or taking a system image.
Force the update
One of the frustrations is that Microsoft is "rolling out" the update, meaning that not everyone gets it immediately. That puts you in a position of not only not knowing if disaster might strike, but also not knowing when.
We can at least fix that last step.
Back up.
Visit the Windows 10 Download page. There you will be given the option to download and install the update immediately.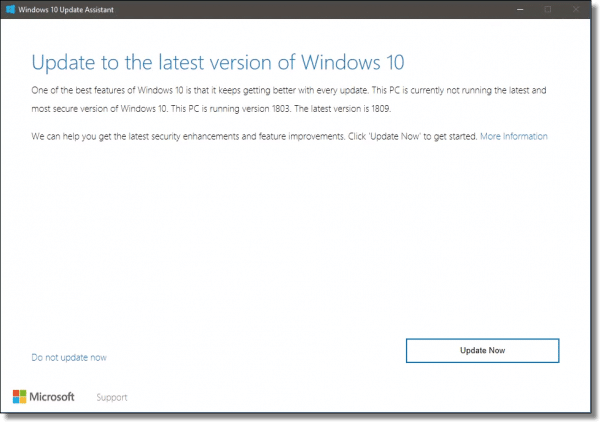 This doesn't change the risk, and it doesn't delay anything, but at least it puts the "when" back in your control.
Windows Update cannot be trusted
It's frustrating. I really want to trust Windows Update. In fact, the lack of choice you have in the matter makes the assumption that Windows Update is, in fact, trustworthy.
Clearly, it is not.
While this bug may only affect a small minority of people getting the update, it is what is considered the most severe type of bug: something that actively causes you to lose data.
Put bluntly, that's unacceptable.
But it also is what it is. You need to take extra care your data is backed up, so if it happens to you, you can recover.
Hopefully, you already have a backup strategy in place to do exactly that. If you don't, you'll now understand why I so strongly recommend that you do. Sometimes, it's not the external threats that get you … sometimes, the enemy comes from within.