What are your criteria for deciding whether or not to take Microsoft updates?
I have Win10 and Office 2003. Regularly, when I get an update from Microsoft it trashes my Excel 2003. If I try to paste into a spreadsheet or format a cell the program crashes. I have to reinstall from my last Macrium full back-up (which includes the o/s) and then my last data backup (which does not include the o/s). I'm fed up with doing that, so I'm intending to turn off Microsoft updates. I can't use the PC without Excel. I could go back to Win8, which is stable but nasty. I'm certainly not going to buy a new version of Office which will look nothing like Office 2003. REALISTICALLY, as opposed to THEORETICALLY, what are the dangers from turning off the Win10 updates?
Honestly, it doesn't surprise me that Windows 10 might not be compatible with 14-year-old software. I know you like it, I get that, but Office 2003 + Windows 10 is a match made … well, somewhere other than heaven.
I'll address the pragmatic reality of avoiding updates, and I'll also review what I see as your alternatives with respect to Windows 10 and Office 2003.
Avoiding updates
The problem with avoiding Windows 10 updates is that someday you'll need one.
Not just one of those "it would be nice" kind of needs (though you'll have those as well, I suspect), but more of an "oh man, I really need this" need.
The scenario that comes to mind is an issue that's discovered for which you really, really, want the fix. It'll probably be some kind of security issue that is rampant in the wild, and for which your machine will be vulnerable until you take an update. This kind of thing has happened in the past, and it'll happen again in the future, I'm convinced. Then you'll be stuck.
As a matter of practicality, what you allude to is probably correct: most Windows 10 updates aren't pragmatically critical, and you can easily wait them out — until there's one that's truly important. That's what I worry about.
And, unfortunately, getting that one update will likely require installing all the updates you've been avoiding up to that point.
Grasping at a straw
It concerns me that Office 2003 worked in Win10 until after an update to Windows 10. Generally, I'd expect the failure to happen immediately when you first encountered Windows 10.
In fact, I was able to successfully install Office 2003 on a fully up-to-date Windows 10.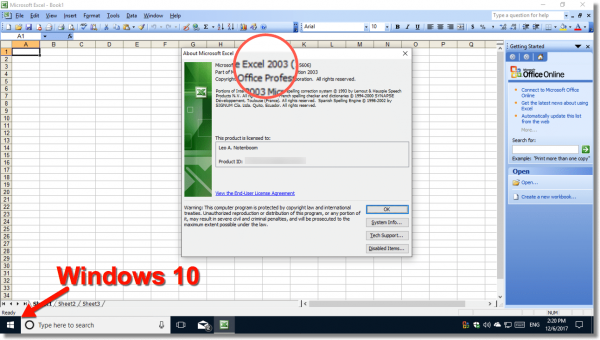 So, one straw I might grasp at is a clean install of Office 2003. Specifically:
Take a full image backup, so you can return to this point if what we're about to try fails.
Uninstall Office 2003 completely. This might be a scenario that calls for using something like Revo Uninstaller to perform a bit more of a clean up after the uninstall than the normal setup program might do.
Bring Windows 10 up to date completely. Take all the updates. Check for updates repeatedly until no more are available.
Install Office 2003 from scratch.
If that works, you'll know it was some kind of interaction with the update process and Office 2003, rather than a fundamental incompatibility.
If it doesn't work, you can revert to your backup image and start considering other options.
Take Windows a step (or two) back
If you must continue using Office 2003, then your only real option might be to revert to Windows 8, as you mentioned, or Windows 7, which I assume is less "nasty" (to use your terminology).
The process is much like what we did above:
Take a full image backup, so you can return to this point if what we're about to try fails.
Install the Windows version of your choice from scratch.
Bring Windows up to date completely.
Install Office 2003 from scratch.
Office alternatives, but why?
Of course, you could switch to something other than Office 2003, like LibreOffice or OpenOffice.
The problem here is that they are different — as different from Office 2003 as the most current versions of Office, just in different ways. You might not have a ribbon interface (the most common complaint of post-2003 versions of Office), but much else will change in either look or behavior.
My recommendation
If you can't get Office 2003 to work acceptably in Windows 10, then…. well, you're not going to like my suggestion.
Embrace the current version of Office.
Honestly, you're probably spending more time trying to get Office 2003 to work on Windows 10 than you would be simply learning the ins and outs of the latest version. Unless you're doing things that are really esoteric, once you get past the ribbon, it really is the same Office you're used to.
That way, you'll also be updated and protected for both Windows and Office.
Podcast audio

Download (right-click, Save-As) (Duration: 6:15 — 2.9MB)
Subscribe: RSS