One of the more common classes of questions I get on Ask Leo! relates to IP addresses and IP address tracing.
Just how far can people really get with an IP address?
It depends on who's looking, but in general it's not as far as you might think.
Finding and hiding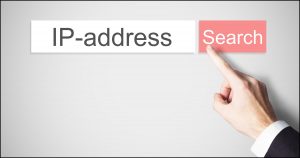 It get these questions from both sides.
On one hand, I hear from people who are concerned someone can track them down physically — perhaps finding their home address — based on their IP address.
On the other hand, I also hear from people who want to find out who's at some IP address, because they're being contacted in some form, and that's the only bit of information they have to grab on to.
It goes as far as the ISP
Publicly available information about an IP address can typically only be traced as far as the ISP (Internet Service Provider) that owns it. ISPs assign IP addresses to individual devices connected to the internet. Providing the internet to your home, for example, your ISP assigns an IP address to your router.
A good ISP will not reveal to whom they've allocated the assigned IP addresses — at least not to just anyone.
My belief is that legal action and possibly even law enforcement of some sort would be required for an ISP to release the information.
It's often obscure
In many cases, the information can be quite obscure.
Instant Messaging conversations typically do not include the IP address of the participants; your computer connects to the IM service's server, and that's the only IP address you'd be able to see. If you're attempting to track down who is messagnig you, you'll need the help of the service provider such as Facebook, Microsoft, or one of the others.
The same is true for most web-based email providers and messages — not all contain the IP address of the actual originator, so you'll need the provider's help to track it down.
In any case these service providers are unlikely to provide any information at all without legal action.
It's good news, really
I consider all this great news. While it's important information be made available when it's appropriate, we all want our privacy too.
The ISPs and service providers we use are important gatekeepers of that privacy.
Bottom line don't go expecting to find a lot of information based on an IP address alone, unless you've got a valid and defensible reason. And conversely, while technically it is possible to track down an IP address to a specific machine and location, it's not easy, and it's not something that the general public can do.