Recently, my computer has been making a very loud grinding noise when I boot from cold. It seems to take forever to stop and everything goes very slow during this time. What is this and how can I correct whatever is wrong?
There are two possibilities that come to mind. One is something that you should deal with, but it's nothing to really panic over.
The other is definitely worth panicking about. And in fact, given that your machine is running slowly while this is happening, it might be time to start panicking right now.
Problem #1: Fan issues
The problem that you want is a fan issue.
Many computers will run all the fans at full speed for a few seconds. They do this at start up to make sure that the fans work and to dislodge any dust or dirt that may have accumulated that a low speed wouldn't just blow out of the way. If there is something partially obstructing the fan, the blades could be hitting it and that could easily sound like a grinding noise.
It's fairly easy to fix if you open up the computer and look for things that are bumping into the blades.
This has happened to me multiple times. The most recent was when I installed a hard drive. I rerouted the cable to make room for the hard drive and as a result, the cable ended up sitting in front of the fan. I heard it and I fixed it simply by moving the cable out of the way.
Problem #2: Internal destruction
The other option that concerns me is the hard drive.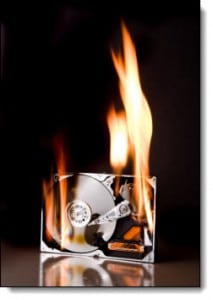 First, back up!
If your machine is working and you're not already backed up, stop reading right now and back up that machine. Your data may be at a serious risk of complete, irrecoverable loss.
Sometimes, when a hard drive is failing or about to fail, it can make those kinds of grinding noises. It's a precursor to something much, much worse. Internal destruction is usually what's next.
That grinding noise is something loose inside the hard drive, where there simply shouldn't be anything loose. That typically means that when that thing becomes completely loose, it's going to go flying around in there and cause all sorts of destruction within the drive itself.
And that kind of destruction is typically irrecoverable.
That's why I started by saying back up, now, while it's still working.
Backing up really is the first step of what turns out to be the only real solution. You'll first back up, then replace the drive, and restore all of your data to it from that backup.
How do you tell which it is?
My approach would be to open the box and just listen carefully to from where the sound is coming. It's usually pretty clear – it'll probably be coming from one of the fans or from one of the drives.
Like I said, the fact that you're experiencing severe system slowness while this noise is happening really has me concerned about the hard drive. That's probably what you want to be looking at first.
Right after you back up, of course!