Question: I have a couple of good cleaning programs to protect my computer (which are usually recommended by you!). But occasionally, I get suckered into running a 'free trial' of a program (like a registry cleaner). I may have just run my cleaner and have been given a clean bill of health, but when I run the 'free trial', I invariably get hundreds of errors. Why?
What you're experiencing is what leads me and many others to avoid recommending entire classes of registry and system-cleaning utilities.
It's not just a few bad apples that spoil the entire bunch; in this case, it's often difficult to find an apple worth biting into at all.
Presenting lists of errors when there actually are none is a common sales tactic.
Even when not misleading, there can be differences of opinion on exactly what or how important an "error" might be.
Avoid these programs and tactics. They're simply not safe.
The scare tactic
The most common reason trials reports lots of errors is simple: they want to scare you into purchasing their product to clean up what they supposedly found.
I say "supposedly" because the most disreputable scanners — and there are a lot of them — aren't above lying.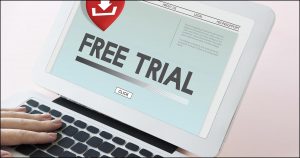 They'll report errors that aren't actually present, and when you do purchase the program, suddenly those errors are no longer there. It's not because of their exceptional error correction technology; it's because in reality, the utility did nothing at all.
Many of the utilities that do clean things are still not above overstating the risk of what they find.
For example, some may claim having a thousand cookies is a very serious performance and security risk. In my opinion, it's neither, and is nothing you need to act on. But if you buy into their rhetoric, you'll be convinced you need to purchase their product to clean it all up, which they then do.
Which brings up the second problem with these cleaners.
Differences of opinion
Ask 100 tech pundits about this topic and you'll get 100 different opinions.
The same is true for the creators of system-cleaning software. Even among legitimate programs, a wide variety of opinions exist about what is and is not an "error", what is worthy of cleaning, and what can be cleaned safely.
The net result is that you could run one legitimate program to completion, have it report that your machine is now 100% clean, and then immediately run a different legitimate program, which might report that it's still riddled with cruft.
There's no absolute measure of which of them is "right".
There just isn't a formal definition of what it means for a machine to be "dirty". Oh, there are common things that most would consider as dirt, but once you stray out of that list, things quickly become unclear.
And even on those items that everyone considers technically "dirt", you'll find a variety of opinions about whether there's any value in cleaning it up.
Resist
The biggest piece of advice I have is to resist the temptation to try the latest and greatest system-cleanup utility or registry cleaner's free trial. Just don't.
At a minimum, only run tools you've heard of and that have a good recommendation from people you trust.
If you've never heard of it and the only words in support are from the tool's own site or advertisements, walk away.
The potential for harm or just wasting your time and money is just too great.
My recommendation
Besides using only trusted tools, my single biggest piece of advice is simply this: don't go trying to fix problems you don't actually have.
Put another way, I ignore cleanup utilities entirely until I'm actually experiencing a problem. Only then will I consider using a utility, and even then, I'm more likely to target the specific problem rather than use a more general purpose "fix everything" utility.
But that's just me.
As I said, there are many opinions on this. If you do elect to invest in a cleanup utility, I strongly suggest you do the research first to find out if it's worth what you're about to pay for it.
While it's possible it is, more often than not, it simply isn't.
And, of course, make sure to back up completely first, before running any cleanup utility. You know … just in case.
Podcast audio

Download (right-click, Save-As) (Duration: 4:54 — 4.6MB)
Subscribe: RSS
Video Narration