Question: I'm getting "Internet Explorer blocked this website from displaying content with security certificate errors." I get this on all of my community college web pages. It pops up every time I go to do something different for school: check my school mail, upload my homework, etc. It's driving me nuts. I've tried changing the date and time and I lowered my security settings to an unhealthy level and nothing is working. Every time I log into the school website, that blasted thing pops up and it doesn't have any options; just a button that shows content you can click or the "X" button. This happens on every PC in my house: 4 laptops; 2 desktops, all different brands but they all have Windows 8. I've clicked the "show content" thinking it would be the end of it, but within a few minutes, it's back up there again. I've tried clicking the "x" button just to close it and then a few minutes, it's back. I never get the message when I'm at school working on the school computers.
To begin with, there should be a link or an option on that error page that would give you more information about what the error with the security certificate is. Without that, it's actually very difficult for me to take a guess at exactly what's happening.
Certificate issues
Personally, I'd blame the school because this is happening only on the school's site and on more than one computer at your home.
If I had to guess, I'd say that the certificate simply expired. It could also be something else, which is why I'm interested in what the specific error message might be. You may be able to click on what would presumably be a broken padlock icon in the address bar to get more information about exactly how or why the certificate is in error.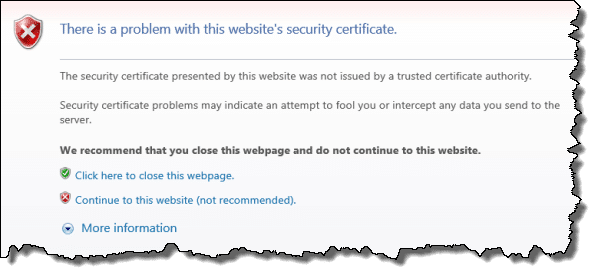 Contact the school
The first thing I would do is contact the school. This is something that probably impacts more people than you, and they probably need to fix it.
It's tempting to want to force IE to just accept broken certificates so that you can get your work done. Don't. Not only is that not easy, it basically removes a critical piece of security from all of the sites that you might visit, not just the school.
It may be possible to accept just the single broken certificate, but in my opinion, this is an unacceptable security risk. You might try another browser to see if it handles the error with a little less annoyance.
Ultimately, I just have to point you back at the school and see exactly what they can do to either fix this problem or help you.