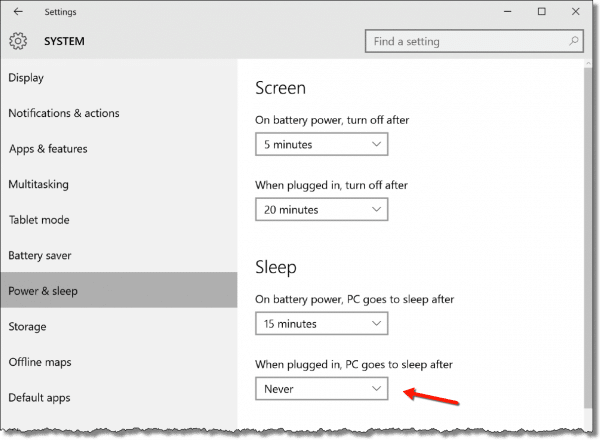 It's no secret that I'm not a huge fan of "sleep". I'm sure it works great these days, but early problems with it — frustrating problems and inconsistent behavior — trained me to avoid it. It's only recently I've started to give it a chance. (And, indeed, it does seem better.)
I prefer to keep my machine running if it's plugged in. To me, sleep is mostly about saving power. When you're plugged in, that's not an issue, unless your attempting to minimize electricity use. Leaving the machine running when plugged in also allows me to access it remotely. I also have an older, re-purposed, laptop that will never travel again connected to my scanners that needs to always be on.
One of the first things I did with my new laptop was to turn off the settings allowing the computer to go to sleep when plugged in.
Search for "power", and you'll find "Power & sleep settings" in the list of results; click on that. Alternately, locate "Power & sleep settings" in Control Panel or the Settings app.
Look for the setting "When plugged in, PC goes to sleep after", which will have a default of some number of minutes. Click on the drop-down list; one of the options will be "Never".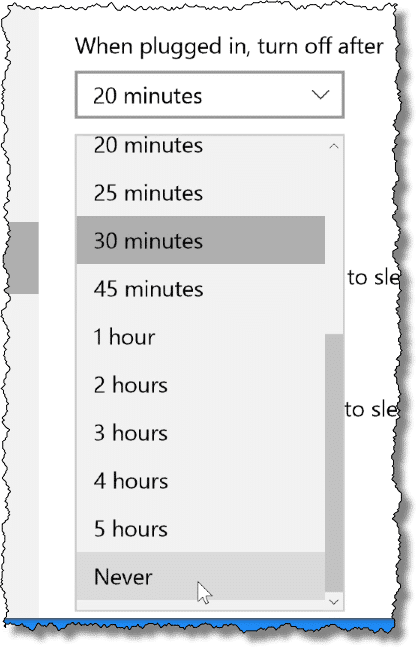 Click on that and close the options app. Now, as long as you keep it plugged in, your laptop will keep running.
More for Patrons of Ask Leo!
Silver-level patrons have access to this related video from The Ask Leo! Video Library.
  Power Settings: Never Sleep When Plugged In