Question: Could you please tell me if I should update my hard drive? My Dell computer is eight years old. I've seen where you should update your hard drive, but I don't know what to do. I don't want to change any settings. Would it do that? Should I do this?
I'm not sure where you're seeing this information that says "you should" update your hard drive.
In my opinion (and I've said this many times in different scenarios), if your machine's working and you're happy with it, I wouldn't go looking for trouble. You don't need to upgrade a hard drive unless you actually have a reason.
What reasons could those be? Let's look at some.
When to replace your hard drive
Simply put, you should update your hard drive when:
It broke or failed and you're forced to replace it.
You want it to be faster. If this is the case, replacing the hard drive with an SSD might be helpful.
You want it to be bigger. If your machine is running out of room replacing the hard drive with a larger one might be good.
With the first two, the reasons for replacing the hard drive are clear and they have simple solutions. The last reason doesn't necessarily mean you need to replace your hard drive.
Running out of room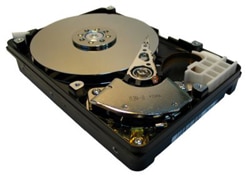 Let's say you've filled up your hard drive. Your first step should be to clean it up. So you go through and remove cruft (like temporary files and such), perhaps uninstall programs you no longer use, remove data that you no longer need to actually keep on the machine, and so on.
After you do that, you may find yourself with enough room.
If not, then replacing the hard drive with a larger drive makes sense.
Now, I do have to throw out a couple of additional ideas here. The hard drive will need replacing eventually. It's going to break sooner or later. It may not happen while you have the machine, but you should be prepared in case it does.
So you know what I'm leading up to… Make sure you're backing up.
Backing up and your hard drive
Back up that hard drive weekly, daily, or however often makes sense for you. Use a good image backup program, such as Macrium Reflect.
No matter which software you choose, a backup program becomes important whether you upgrade your hard drive or replace your broken one. An image backup helps you restore everything on your machine – your settings, software, and data – back to the way that it was before the drive was replaced.
Sure, you may have to do some additional steps to make sure that the hard drive is fully utilized, but you haven't lost anything. So, make sure you're backing up regularly. That's the way to avoid data loss either from failure or simply replacing the hard drive.
Ultimately, though, if you don't have a specific reason to update your hard drive,  there's really no reason to do it.
If something ain't broke, don't fix it.