I have a Dell Inspiron 1545 operating on Vista. It has had problems with the monitor frame and hinges. I want to buy a used laptop of the same model and move my hard drive over to it. If I purchase a laptop with the same operating system, what kind of problems will I encounter? What if the used machine is purchased using Windows 7?
I receive so many variations of this question where people want to replace or swap hard drives from one machine into another.
Swaps like this usually don't work, but your scenario actually could. Nonetheless, there are indeed a couple of misconceptions that I want to clear up here.
Performing the swap
First of all, the operating system on the used machine doesn't matter. You're going to replace it with the hard drive on the original machine, which has the operating system and all of the applications and data that you already have.
How well the swap works actually depends on just how identical this replacement machine really is compared to your original.
One issue that you might run into is activation. Some of the information that's used to identify your computer will have changed. For example, the MAC address of a network card would be different from one machine to the next – even if it's the same model. The MAC address factors into some of the calculations that go on when deciding whether or not a machine has already been activated.
One clarification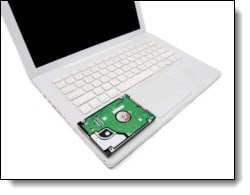 If you're moving the old hard drive to the replacement machine in addition to whatever hard drive is there right now, then your old hard drive simply becomes a data drive. You can copy files off of it without any problems.
Chances are that there's no room in the laptop for a second hard drive, so this is commonly an external drive scenario. In other words, if you're keeping the hard drive in that replacement machine and you're thinking of somehow adding your original hard drive, then  the replacement machine's hard drive becomes your operating system. In that case, you'll want to reinstall the applications that you care about on to that hard drive.