Question: Our computer club has a laptop we want to donate to another club here at our senior center. One of our five Office 365 installs resides on that computer. I want to move it to another computer before donating it. I read your article from several years ago on how to "transfer" Office 2010 to another computer. That seems pretty straightforward, but when I ran Belarc Advisor, I got this across from Office 365: *****-*****-*****-***** (Key: ends with *****, expires 4/16/2016). I don't have the installation disk since it was a download to all five computers, and I don't have a product key. Can you help?
Unlike the days of single-product installs and trying to hang on to product keys in case you need to move to a new machine, the online subscription model of Office 365 makes this quite easy.
It's just definitely different than what we did in the past.
The Office subscription model
Office 365 Home subscriptions are just that: an annual subscription to Microsoft Office that, as of this writing, includes:
Current versions of all Microsoft Office applications.
Up to five installations across either PCs or Macs.
One terabyte of OneDrive storage.
All for $100 per year. As things go, I consider that an awesome deal.
When you purchase an Office 365 subscription, it's associated with a Microsoft account rather than any specific machine. That means the approach to installing it after purchase is pretty simple:
At some point during the installation, you'll sign into your Microsoft account in Office itself, at which point it'll be assigned to and authorized for that machine.
Where Office has been installed
You can repeat the installation on up to five machines using the same Microsoft account.
At any point in time, you can view exactly which machines you've installed it on by visiting that Office 365 installation page.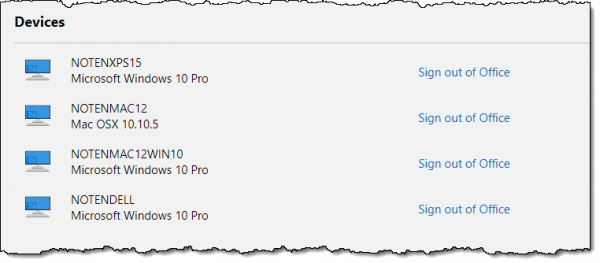 Here you can see I currently have Microsoft Office 365 installed on four machines: three PCs and one Mac.
Moving Office
To move Microsoft Office from one machine to another is a simple two-step process:
Click the "Sign out of Office" button next to the machine from which you wish to remove Office.
Download and install Office on the new machine.
That's it.
If you haven't used your five installations yet, you may not need to perform the first step. You can simply install on the new machine without needing to do anything else. (Though you'll probably want to remove yourself if you're giving the machine away.)
If you aren't moving to a new machine, but simply removing yourself from an old one, then you don't need to perform the second step. Signing out of Office on that machine will remove your Microsoft account's access to the software there.
Podcast audio

Download (right-click, Save-As) (Duration: 3:30 — 1.7MB)
Subscribe: RSS