The drive to boot from when your machine won't boot.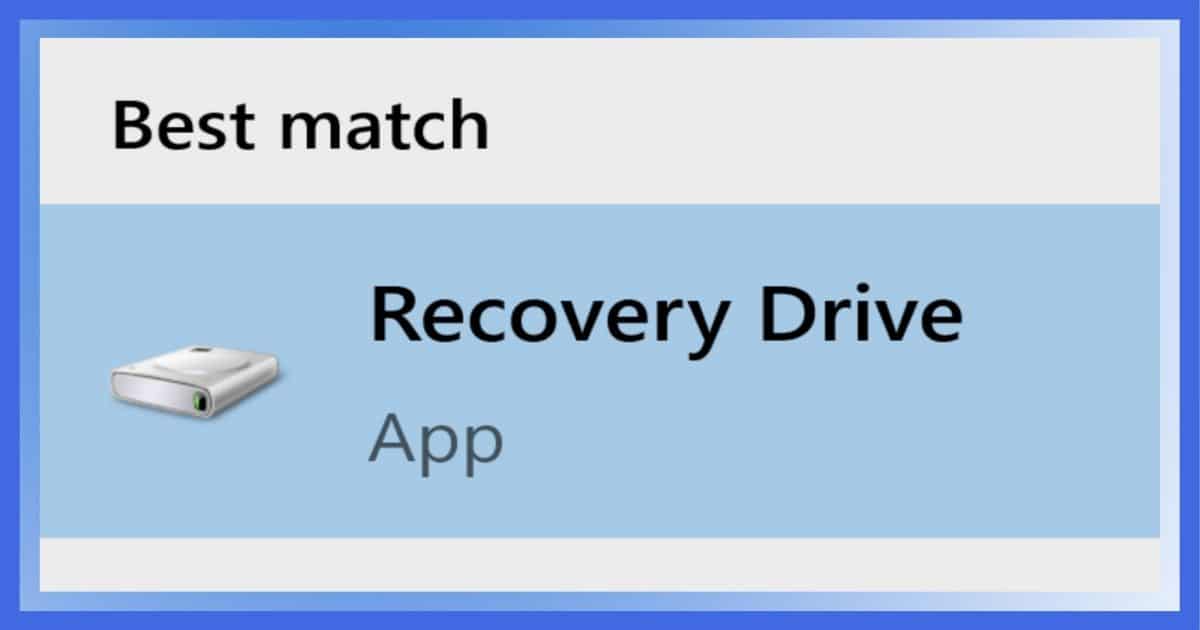 A Windows 10 Recovery Drive can be used to restore Windows backups to your machine and more. I'll show you how to create one.
In a previous article, I showed you how to create a backup image using Windows 10's built-in backup program. Along the way, we were prompted to create what's called a "recovery drive" to use in the event of a computer disaster.
A recovery drive is a USB flash drive from which you boot your computer in order to restore a previously created image, as well as perform a number of other Windows recovery tasks — including reinstalling Windows from scratch.
You don't have to be taking a backup image to create a recovery drive, and it's convenient to have around; it can take the place of your original installation media, should that not be available. Here's how to do it.
Creating a Recovery Drive
Search for and run the Recovery Drive app. Insert a USB thumb drive 8GB or larger. This drive will be completely erased. Follow the instructions in the app to create the recovery drive, making sure "Back up system files to the recovery drive" is checked. Be sure to test your ability to boot from the recovery drive after it's been created.
Creating a recovery drive
Click on the Start menu (or type the Windows key on your keyboard) and begin typing "recovery drive" (without the quotes). The first search result should be "Recovery Drive – App", as shown above. As soon as that appears, click on it.
After confirming User Account Control (not shown), you'll be presented with the Recovery Drive wizard's first screen.
Make sure "Back up system files to the recovery drive" is checked. This may require a larger flash drive but ensures that should the need arise, you'll be able to reinstall your system from scratch using this drive.
Click Next.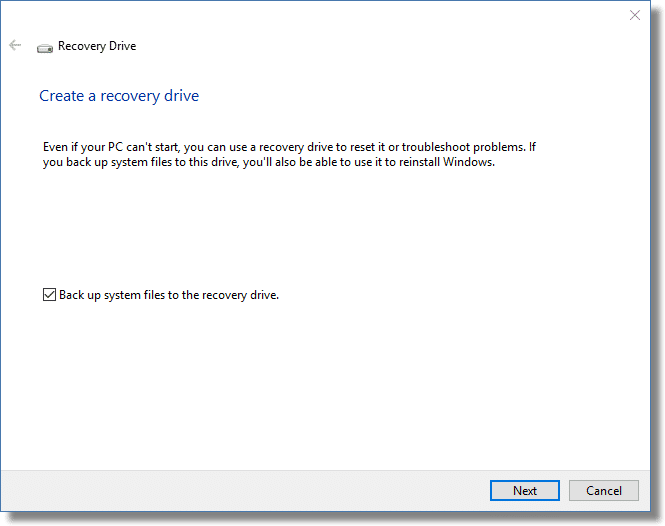 The wizard will scan your system for eligible USB flash drives. If you have not yet inserted a USB flash drive for this purpose, you can do so now, while it scans. The scan can take some time.
When complete, the wizard displays available drives, as well as the minimum size the drive needs to be.
If more than one is listed, click on the one you want to use and click Next.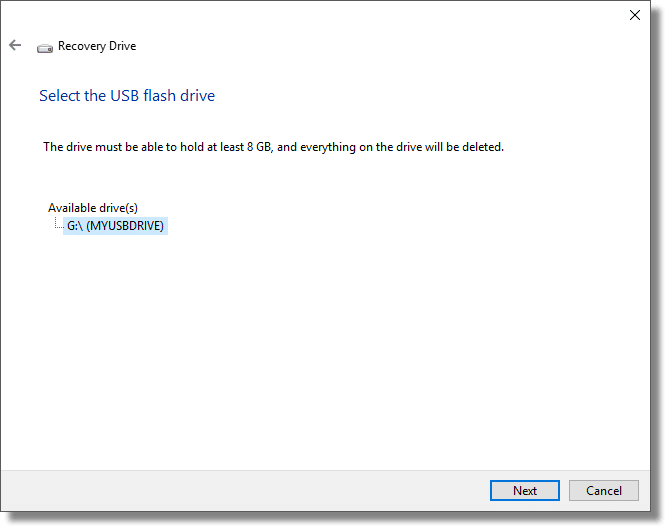 You'll be given an important warning.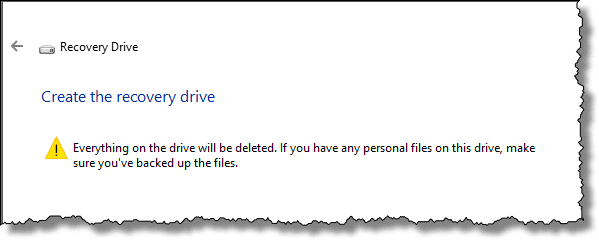 The drive you use for your recovery drive (in this case, my USB drive) will be completely erased.
Make sure there is no important data on the drive, and click Create to begin the process.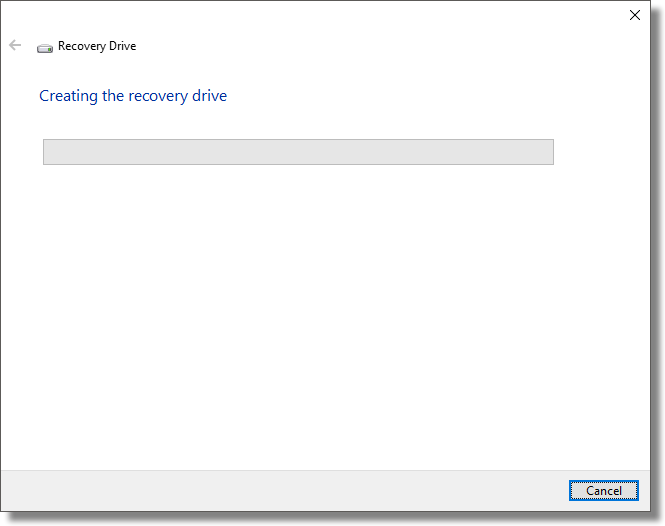 This can take a surprisingly long time — at least it did for me. The length of time depends on the speed of your machine, your flash drive, your USB interface, and what else you are doing with your computer as the process proceeds.
When completed, the wizard displays a message that it's done.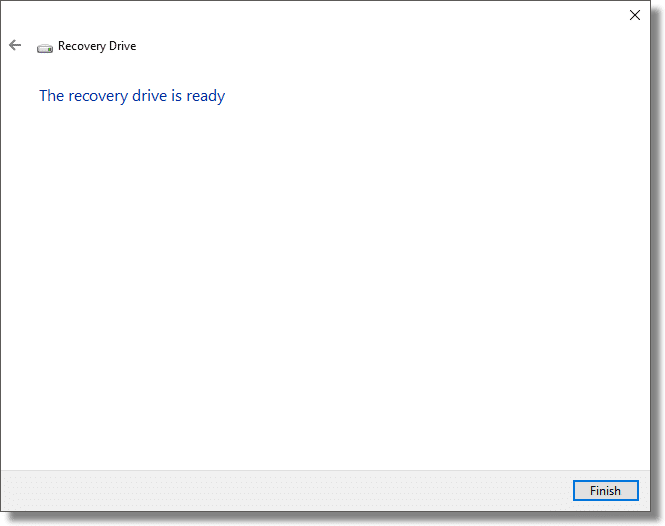 This article is excerpted from Backing Up In Windows 10, available now. Top-to-bottom, end-to-end, Backing Up In Windows 10 will walk you through all the steps you need to keep your data safe, using Windows 10's built-in tools, as well as a free alternative.
Click Finish to exit the wizard.
Using your recovery drive
The most important thing to realize is that a recovery drive is something you boot from. By that, I mean you reboot your computer with the UEFI or BIOS configured to check for bootable USB media before booting normally from the hard disk.
There's more information on exactly what that means in my article How do I boot from CD/DVD/USB in Windows 8 & 10?
More for Patrons of Ask Leo!
Silver-level patrons have access to this related video from The Ask Leo! Video Library.
  Creating a Recovery Drive
Podcast audio

Download (right-click, Save-As) (Duration: 3:04 — 3.3MB)
Subscribe: Apple Podcasts | RSS