My Recycle Bin is full of items like "HTML" and "gif" and I cannot empty it even though I once gave it 12 hours to populate the list and do so. It happened when I attempted to delete unnecessary photos and apparently went overboard. Right clicking won't work. I can delete one at a time but there are 6,864 of them. I have searched the internet and the list of your subjects to no avail. I believe the only way to fix the Recycle Bin is to to remove the Bin entirely and rebuild it in the Registry.
The good news is that the registry is not involved.
More good news is that we can easily delete the entire Recycle Bin. In fact, it's probably faster to delete the Recycle Bin than it is to empty it, when it's that full.
The bad news is that if you want to recover anything currently in the Recycle Bin, you'll need to do that manually, one at a time, before you start.
Locating the Recycle Bin
The Recycle Bin is nothing more than a specially named, hidden folder on your hard drive. Each hard drive that has a Recycle Bin will have its own hidden folder. When a file is deleted into the Recycle Bin, it's the equivalent of moving that file into this hidden folder.
We can fix the Recycle Bin by simply deleting that folder… but we have to find it first. Since Windows File Explorer doesn't display hidden files and folders by default, that's the first thing we need to change.
Open Windows File Explorer. Click on the View menu (press the ALT key to display menus if they're hidden), then click Options, Change folder and search options1. Now click on the View tab in the resulting dialog box.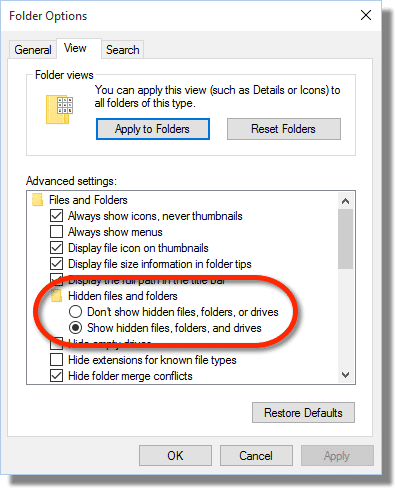 Make sure that under "Hidden files and folders", the option to Show hidden files, folders and drives is selected.
Then scroll down in the list a little further, until you find "Hide protected operating system files".

Make sure this is not checked. You will get a warning, which you can ignore.
Now, navigate to the root of your C: drive. You'll see many additional files and folders, one if which will look familiar.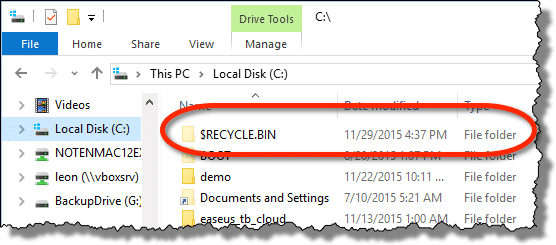 That folder – $RECYCLE.BIN2 – is the folder that "is" the Recycle Bin for the C: drive.
Delete and fix the Recycle Bin
Click on $Recycle.Bin; then hold down the Shift key and press the Delete key. You'll probably get a warning.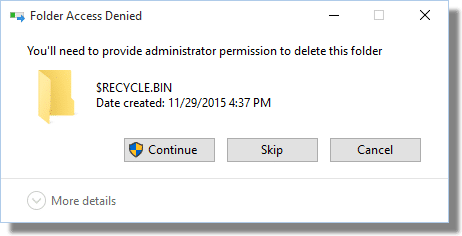 This is a system folder, after all. Click on Continue, and the Recycle Bin is gone.
If you prefer, you can also do this in a Command Prompt run "as Administrator". Right click on the start button.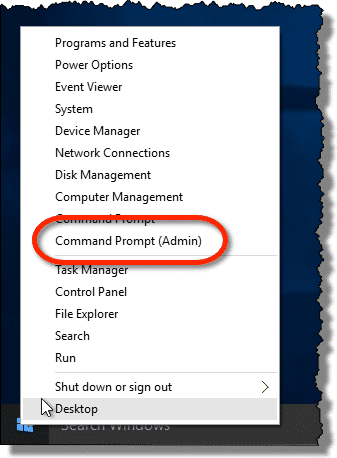 Click on Command Prompt (Admin), and then click on OK on the resulting UAC dialog. The result will be a Command Prompt with full administrative privileges.
There are two commands you'll need to type in:
CD /
followed by the Return key. This will make the root of the drive the "current location" of the command prompt.
Then type:
rd /s $RECYCLE.BIN
again followed by the Return key. Type "Y", followed by Return, to confirm that this is what you want. This will delete the Recycle Bin. "Rd" is the "Remove Directory" command, and the "/S" option directs the computer to delete all subdirectories and files contained within it.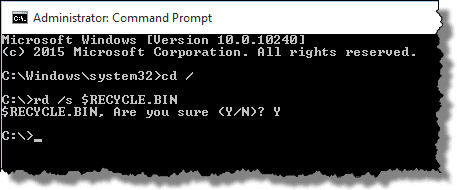 Life without a Recycle Bin?
Now that it's gone, you might be asking how to restore the Recycle Bin.
This is easy: just delete something. Windows will automatically re-create the Recycle Bin if there isn't one.
And we just made sure that there isn't one.
Multiple drives
If you have multiple drives that support a Recycle Bin, each will have its own, even though there's only one Recycle Bin icon on your desktop.
Depending on your reason for wanting to recycle the Recycle Bin, you may need to visit each drive that has one and delete it until whatever problem you're addressing is resolved. Once again, should a Recycle Bin be needed on the drive later, Windows will re-create it.
One last catch…
It probably goes without saying, but I'll say it anyway: if you fix the Recycle Bin by deleting it, you permanently delete anything that's in it.
I have run into people who actually count on things staying in the Recycle Bin; they use it as a kind of separate storage folder or something. If their Recycle Bin is emptied for any reason, they're upset because they've lost files.
First: DON'T DO THAT. The Recycle Bin is not an extra storage location. If you want an extra storage location, create a folder of your own and move your files into that. You really shouldn't count on knowing when the Recycle Bin might be emptied.
Second: recover whatever needs recovering before you delete the Recycle Bin.
Third: back up your computer regularly so that any kind of accidental file deletion is, at worst, a minor inconvenience.
Podcast audio

Download (right-click, Save-As) (Duration: 6:01 — 5.6MB)
Subscribe: RSS