I'm looking for [… some filename …] on my machine. I know it's here, but I can't track it down. What am I missing? How do I find the file?
As you might guess, that question reflects many different people asking roughly the same question in different ways.
How do I locate a file I know is on my computer?
There are a couple of ways to do so quickly, and there are a couple of "gotcha's" as well, so let's look at three common ways to track down that file you're looking for: Windows Search, Windows File Explorer, and using the command prompt.
Windows Search
The traditional way to locate a file in Windows is the Search item on the Start menu. Windows 10 and 11 makes this simple.
Click on the Start button and just start typing the name of the file, or some portion thereof.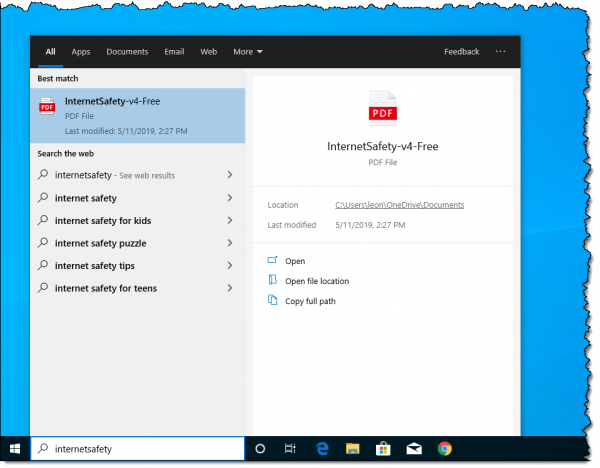 What you type will be displayed in a search box (which may or may not already have been present on the taskbar), and results will begin to appear. Once you stop typing and Windows catches up, you'll see a list of results, as shown above. If you don't see what you're looking for right away, type more of the name.
In my example above, the "Best match" is the file I was looking for. Information about the file is displayed at the right, including its location on the hard disk, along with links to open the file or the folder in which it's contained.
Searching your entire computer
By default, Windows Search searches only a predefined set of locations. Those include your desktop and the Libraries (such as Documents, Music, and Pictures) shown in the left-hand pane of Windows File Explorer.
You can instruct Windows Search to search your entire computer by changing a setting.1 Run the Settings app and search for "search". Click on Windows Search settings when it appears.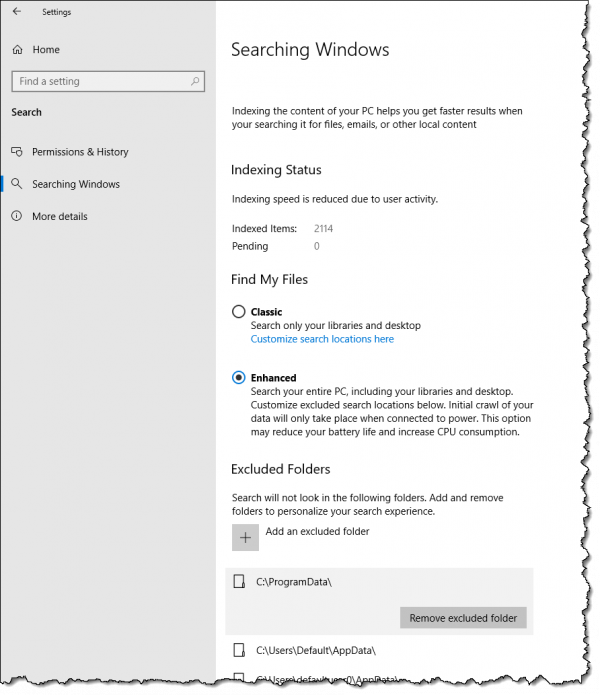 Click on Enhanced to add the rest of your computer's hard disk, with the exception of excluded folders, to the search.
If there are excluded folders that you want included in searches, click on them and then on Remove excluded folder.
Windows File Explorer Search
A second way to search is through File Explorer. Open Windows File Explorer, click on This PC, and the search box near the upper right will indicate "Search This PC".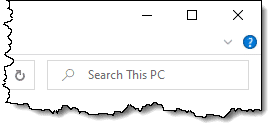 Type the name (or partial name) of the file into this search box.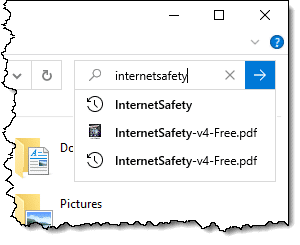 Quickly available results may be displayed — if any of those are what you need, just click on it to open the document listed. If not, click the right-pointing arrow to the right of the search box.
The search may take some time.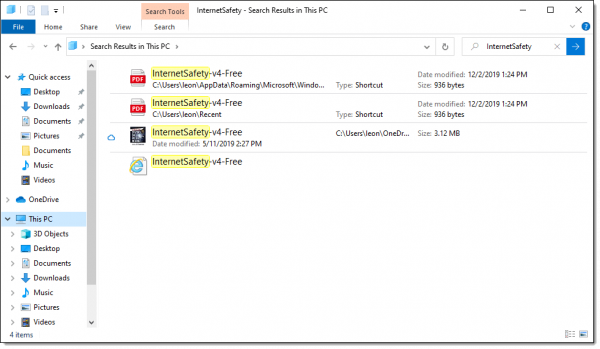 You can open a document directly from the search results by double-clicking on it; open the folder containing the file by right-clicking on it and clicking on Open file location; or copy or move the file as you like.
Windows File Explorer includes several additional ways of tailoring your search. Click on Search Tools, a tab that appears at the top of the window when you type into the search box, for a selection of additional ways to customize what will be found. (Windows 11 may look different.)

Searching in Command Prompt
Since I'm an old-school command-line kinda guy, I often turn to the Windows Command Prompt.
To fire up a Windows Command Prompt, right-click on the Start button and click on either Command Prompt or Command Prompt (Admin) to search administrator-only locations. Enter:
cd \
(followed by the Enter key) to make the current directory the root of the drive. Now enter:
dir /s /a filename
Where "filename" is the full name of the file you're looking for. "/s" means to check all subfolders, and "a" means to show all files, including hidden and system files.
The asterisk character ("*") is a useful addition when you don't know the full filename.
For example, searching for "internetsafety*" begins a search for any file whose name begins with "internetsafety".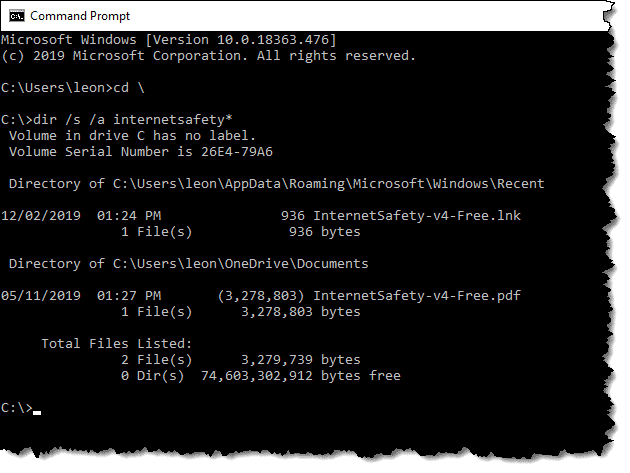 The asterisk, called a wild card, can appear elsewhere, including at the front of what you're searching for. For example, a search for "*.pdf" would return all PDF files on your computer. This comes in handy when you can't remember the name of the file but are pretty sure of one word in it.
Podcast audio

Download (right-click, Save-As) (Duration: 6:04 — 8.4MB)
Subscribe: RSS
Footnotes & References
1: This setting was introduced in the Windows 10 1903 update.