I just installed two external hard drive cases with two hard drives. When I shut off my system the drives keep running and they don't power down when my PC is on after 15 minutes-the setting I use for turning the hard drives off.
Is this normal for an external drive or is there something I need to do to get them to power down.
I can shut them off when not in use but it would be more convenient if they just turned off according to my power schedule.
I'm a huge fan of external drives. I own many.
But, being the kind of guy I am, I leave my computers — all of them — running all the time. If you don't, what you want to do depends on exactly what your external drive does when it gets "bored".
First, to my knowledge, the Windows power schedule for disk drive shutdown really only applies to internal drives. And it certainly only applies while the computer is running. If the computer's powered down, it has no way to tell the external drives "it's time to shut down now".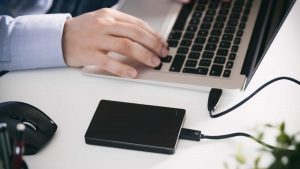 That's why I say it kind of depends on what your external drives do when they get "bored", as I call it.
You didn't indicate what brand of drive you're using, so I'll mention my Maxtors. Even with the power on, the drives themselves automatically turn off after some period of inactivity. I believe that's just part of the drive's configuration, and not something that's controlled by the Windows power settings. In fact, in the morning when I fire up my MP3 player for the first time (all my MP3's are on an external drive), it takes a few extra seconds for the drive to "wake up", and spin up to speed before the files can be accessed. If you've ever noticed such a delay after not using the drive for a while, that's probably what's happening. I've also actually heard the drive spin up, if the room is otherwise quiet.
If your drive does that, then personally, I'd be totally happy just leaving it powered on, even if your computer is not. The big power sink for a drive it the motor that spins it, and the actuator that moves the disk head. If it's spun down due to inactivity, it's using just a little power to keep the circuitry alive and listening for requests, but not much more.
Now, if you're uncomfortable with that, or you're certain that your drive does not spin down when it's not been used for a while, then as far as I know your only real recourse is the power switch on the drive itself.