One of my recommendations for managing email sounds very counter-intuitive. In fact, you may think I'm completely nuts – yet it's fundamental to my approach to an empty inbox.
I was able to do an analysis of my incoming email – which accompanies this article – because I save all my mail.
I save all my mail.
I have every piece of mail my wife and I received last year. Every bit of spam, every virus, every incoming message, no matter how important, annoying, or trivial.
That seems like the exact opposite of what most people want: less mail, not more, right?
I do it because it's incredibly liberating.
Fear of loss
One of the reasons so many people have a difficult time dealing with email is that they're afraid to take action. They're afraid to delete an email or turn up the dial on their spam filter.
Why? Because they might miss something. Because they might need it later.
Email, once deleted, is gone. Poof. So long. What if that high-priority message with key information and data got spam-filtered? What if it got deleted? Poof. So long.
Not if you save a copy first!
How I save everything
When email to one of my email addresses – say leo<at>askleo.com – arrives, it is automatically archived immediately.1 That copy is not processed, it's not spam filtered, it's not affected by anything else. It simply accumulates on my server.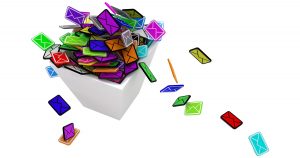 I don't download it into any email program at all. I download the archive of accumulated mail once a month, freeing up space on my server.
Aside from the archive, then, my email is handled normally. In my case, since I currently use Gmail to manage email, it's picked up by my Gmail account, where it gets filtered for spam, read, saved, or discarded as I see fit.
I'll examine how you can do something like this in a moment.
So, what does this all buy me?
Freedom!
Freedom to delete. Freedom from worry.
I never lose anything. I never lose a piece of incoming email. If it makes it to my mail server, I have it and I can find it. Period.
That means I can be freer with my Delete key, and I worry a lot less about something accidentally getting filtered out as spam.
Doing this has saved my … assets … more than a time or two. For example, when my wife was expecting an important email from a business associate which they said they sent but she never got, it was there, in that pre-filtered "archive of everything".
The Catch
Yes, there's a catch. It's not a perfect system.
You'll note that my wife was expecting that email, and knew that it hadn't arrived. It's hard to miss something you're not expecting. Your long-lost relative sends you an email out of the blue, and perhaps because they're telling you about their new job working on "performance enhancing" medications, their mail gets filtered.
You have it in your pre-filtered archives; you just don't know you have it.
The fact is, false positives are an ugly side effect of any spam filtering solution. Legitimate mail will occasionally be filtered. Even if the filter is you, doing it manually, you'll trip up too.
But the archive means that no matter what, you'll have the email.
When you finally find out your rich uncle has been mailing you about your position in his will, you'll be able to go back to that archive and dig out all the details (and hopefully return to his good graces).
How?
OK, you're convinced, and you want to set up your own pre-filtering archive. How do you do it?
Well, the 0.01% of you who run your own mail server, like I do, probably already know enough about what I've described to run off and do it. Have at it.3
For "real" people, it gets more complicated, and to be completely honest, it's not likely you can get 100%.
But you can get close – very close, as a matter of fact – with one simple rule:
Always archive, never delete.
By that, I mean when you're ready to "get rid" of an email because you think you're done with it or don't need it any longer, hit the Archive button in your email program or interface instead of Delete. Archive saves everything, out of sight. Delete? Well, as we saw… *poof*, gone.
Nope, that doesn't save email miscategorized as spam. You'd need a solution that gets in front of the spam filter for that.4
As long as it's out of sight, does it matter if it's still on your hard disk or mail service?
Not at all.
Why close is pretty darned good
The issue with "always archive, never delete" is spam. You'd have to disable your spam filter in order to see every single email so you could archive every single email. I don't recommend it, simply because there's so much spam.
Besides, this was never really about spam anyway.
This was always about making you more comfortable moving legitimate email out of your inbox.
Let's look at the problem we just solved.
Your inbox is not a filing cabinet
Most people use their inboxes for several things:
A place to find new messages that have arrived
A place to keep messages they need to act on later
A place to keep messages they might want later
A place to keep messages they don't want to lose because … well … they might want those later, too
Anything that starts with "a place to keep …"  is a misuse of your inbox, and can lead to anxiety and even productivity loss. Why? Because the inbox keeps getting bigger and bigger and BIGGER. And since it mostly represents a collection of things we need to do something with "later" it turns into a huge visual representation of "stuff I gotta deal with someday".
Whether or not you really do.
What I discovered after I stopped deleting
So I set up this system (originally much more elaborate than described here), and went nuts. I deleted and archived and got myself to inbox-zero within a few days.
What I discovered is that I rarely needed the archives.
All those emails I'd been hanging onto for "someday"? Someday never came.
The problem, of course, is that I couldn't tell you as each email arrived whether or not I'd need it someday or not, so, like most people, I'd save anything remotely important in my inbox, or take the time to move it to a folder.
With an archive of everything, I didn't have to worry. I could keep a clean slate by liberally archiving and deleting, while knowing that should I need something – anything – I'd be able to find it again.
That, my friends, is peace of mind.
And an inbox that's regularly empty.
The cost
There's one aspect of all this I need to touch on, and that's disk space.
Last year, I archived over four and a half gigabytes of email.
Now, disk space is cheap – if it's yours. I absolutely recommend you download your archives to your own hard disks and backups. Disk space is cheap – cheaper, I'll wager, than losing important email.
But, depending on how you set this system up, make sure you don't exceed your ISP's limits. If you will, make sure you download that archive every so often (I like once a month) and keep it someplace safe.
I think you'll find that, regardless of how lax or tight your spam filter, you'll sleep better knowing your assets are covered.
Podcast audio

Download (right-click, Save-As) (Duration: 9:56 — 9.2MB)
Subscribe: RSS
The "Taming Email" series of articles is based on a project I originally started back in 2006. Now, well over a decade later, the topic is still critically relevant, particularly in the workplace.