Question: When installing some software programs I purchased on the web, it says while installing to click on, say, Ask Jeeves for a search engine. This is "recommended" and also is the Ask Jeeves toolbar again recommended. To be quite blunt about this, Leo, I did not click those even though they were recommended. In the past, I recall that some of this stuff is quite aggressive and soon after the install, my PC wasn't running right. Can the seller that I purchased my software from cause the software to not run correctly because I didn't install the search engine or toolbar that was recommended with the software?
You did the right thing. If the software is truly optional, then saying "no" should have no impact on your ability to use the software you actually want.
Software installations have become more and more aggressive in attempting to get you to install add-ons that are unrelated to the software you've actually purchased.
Always choose "custom"
If you take away only one thing, let it be this:
When installing software, never choose the Default or "Express" option; always choose "Custom", "Advanced", or the equivalent.
Then watch carefully for offers of software that is unrelated to what you're installing, and make the choice not to install it.
The cost of software
I used to have mixed feelings on this. On one hand, I understood the motivation: the cost of developing and distributing software is high, and must be recouped somehow. That's pretty obvious when software is free, but even when purchased, the price you pay may not cover the actual cost of development.
But this practice has gotten out of hand.
Not only is it difficult to make informed decisions, it's also clear that the distributors – who get paid by the installation for including these "extras" – are counting on it.
There's a term for this type of software installation: "foistware" – software that's being foisted on you whether you actually want it or not.
And that's not a good thing.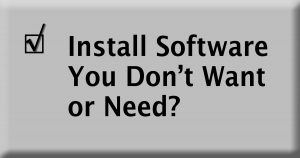 How it works
The short version is very simple. A software manufacturer or distributor is offered additional revenue for including a toolbar or other application with their installation.
That revenue may be based on the number of people who see the recommended offer, or it may be the number of people that actually install the recommended offer. These days, I'm pretty sure it's usually the latter.
Whether the actual offer is related to the software that you're installing is often unclear.
To be honest, I can't say I've ever seen foistware that has been required, necessary, or even related to the software I was installing. In almost all cases, it was completely unnecessary.
Why it's bad
These kinds of tag-along offers can be very bad in a couple of different ways:
Malicious. We have seen what many consider to be actual malware installed as foistware.
Intrusive. More commonly, the additional software is intrusive in some way – getting in the way of other operations, changing search engines, toolbar behavior, adding pop-up ads, or worse.
Cumulative. After installing just a few otherwise legitimate downloads, people often find their machines slowing down and their screens cluttered with things they never wanted or asked for.
The way these "offers" are presented is what sets them apart, and has tipped the scales to their being considered inappropriate and even evil:
Installed by default. You should never be able to accidentally install one of these. Some vendors pre-check the option box by default in the hope that you're not paying attention; you'll simply click "Next", and install the software you didn't realize you asked for.
Installed without choice. I've seen some vendors remove the choice and install "optional" software whether you wanted or not. In my opinion, this is evil, and I've rescinded recommendations in the past because of it. You should know what you're getting and you should get only what you ask for.
Installed by deception. The word "recommended" is severely overused in advertising, including in this scenario. It's often used to imply an endorsement when there isn't one. If it's truly optional, the text should say so. There should be nothing to indicate that the software is somehow required, or related to, the software that you're actually interested in using. Misleading text is almost, but not quite, as evil as not giving you a choice at all.
Installed at update time. Unfortunately, it's not uncommon for updates to once again offer these optional software installations. My position is that I made a decision not to install the offer when I installed the software the first time; I should not have to remember to pay attention so I don't accidentally install additional software every time there's an update.
In short, if the installation of the software that you want causes you to unintentionally install software that you don't, it's just plain wrong.
What to do
Unfortunately, there is no blanket remedy for the problem of foistware. Sometimes, the software you want offers additional software. Hopefully, they make the offer with some amount of integrity.
The only true solution is to pay careful attention to software installations.
As I mentioned earlier, always choose Custom or Advanced Options if it's offered as an option during the installation process. Occasionally, these offers of additional software are hidden behind these advanced options, and may very well be defaulted to install whether you want it or not, if you choose the Default or Quick Installation path.
If you find software that has surreptitiously installed foistware without your knowledge, complain. Uninstall the software, stop using it, find an alternative, and complain to the original vendor that you are no longer using their software specifically because of the foistware they included.
And to be completely fair, if you find the additional offer attractive, interesting, or potentially useful, then by all means, accept it. I certainly don't want to imply that all such offers are unnecessary.
It's just that in my experience, they usually are.
An additional approach
Ninite is an online service that simplifies downloading and installing popular utilities and other programs.
One of the benefits of using Ninite is that the software is vetted and delivered without foistware.
I plan to review and formally recommend Ninite soon.
Podcast audio

Download (right-click, Save-As) (Duration: 7:21 — 6.8MB)
Subscribe: RSS