No, I'm not talking about what happens when you insert a DVD or CD into your computer, or even what happens when you plug in a USB device and things automatically happen. That can be evil, and often is, but that's not what this little rant is about.
This is for all of the website owners, designers, and maintainers out there.
Auto-play anything on the web is evil.
Because so many website owners insist on auto-playing things, I apparently need to explain why it's such a bad idea.
Auto-play audio is just plain evil
It's a quiet evening. Or morning. Or afternoon. It doesn't matter. It's quiet.
Perhaps you're listening to some music. Perhaps not.
You're browsing on your computer. Perhaps you're doing some research. Or catching up on news. Or maybe just looking at funny cat pictures.
You click a link and all of a sudden….
NOISE. And lots of it.
It doesn't matter what it is. It could be background music. It could be someone talking. It could (and often is) an advertisement on that page.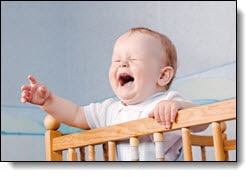 The dogs start barking. The formerly quietly sleeping baby wakes up and starts crying. The cat takes a flying leap out of a chair. Your heart jumps into your throat as you reach as quickly as you can for whatever volume control your computer may have.
All because some web designer or some ad creator decided that their audio was SO #@$!%!@ IMPORTANT that they had to have it play automatically whether you wanted it to or not.
Don't do that! Yes, I'm sure that the background music that you added seems nice and innocuous to you, but not everyone is you. It can (and does) startle people, animals, and small children.
Yes, I'm sure that the advertisement is an important part of your revenue stream, but it comes at the high cost of annoying the heck out of someone who visits your site. It's negative reinforcement. They'll learn that it hurts to visit your site, so they won't.
Don't auto-play audio on a page visit. Period. Please.
So turn off the speakers!
I know people who do this. They keep their speakers off unless there's something that they know they want to hear.
That's about the only practical solution if we can't avoid the sites that use auto-play audio.
But besides missing some audio that they really need (like an operating system notification), this can actually make the problem worse in some cases.
Imagine your computer never makes noise, because you have the speakers muted. One day, you unmute in order to hear something you actually want to hear. And you forget to mute them when you're done.
You're going to levitate higher than average when you stumble onto a site that has auto-play audio. Why? Because you know deep down that your computer never makes noise.
Until it suddenly does.
Auto-play video is also evil
Auto-play video with sound is evil for all of the reasons above and more.
Auto-play video that starts out muted is still evil. (I'm looking at you, Facebook.)
The issue is that video is fairly large. It takes what we might call a "larger than average" amount of data to be played.
By allowing that video to auto-play, even silently, you are forcing that data to be transferred down to my machine whether I want it or not; perhaps most importantly, whether I would watch it or not.
Now, as much as we might like to think otherwise, there are many, many people – including myself, as it turns out – who are on metered internet connections. That means by allowing your video to auto-play, you are forcing us to eat up a precious resource so we can either limit our activity overall or pay more in overages or other fees.
In addition, you're slowing us down. Downloading that video data takes time that makes pages (including your own) and other internet applications load and  run more slowly. Forcing us to download video that we don't intend to watch is a waste of time and resources.
It's just rude
Maybe someday, we'll look back on today as the Stone Age of the internet. Someday videos will load in the blink of an eye and take teeny-tiny percentages of our unlimited and lightning-fast internet connection. Maybe from a world of auto-play everything, we'll look back and laugh at everyone who complained about auto-play anything.
But for now, when you insist you know what I want better than I do, when you insist on playing audio without warning, when you insist on startling and annoying your visitors, when you insist that the video is SO DARNED IMPORTANT that you MUST play it whether I care or not…
Well, that's just rude.
Stop it. Please.
At least until the instantaneous and unlimited internet of the future is here to handle your oh-so-important ideas.
Thank you.
Pot, meet kettle
OK, there's a risk that I'm taking here.
Because I display ads from a third-party network (Google's Adsense), there's a risk that some advertisement on this page will start playing video, or worse, start playing audio when you visit.
So, yeah, there could be some perceived hypocrisy here. I get that. Because I realize how these things work when I encounter advertisements on the web that do these evil things, I blame the advertiser, not the hosting site.
I do have somewhat limited control over what specific ads might appear here. If an ad appears on Ask Leo! that auto-plays audio or video, let me know. I'll do what I can to block it.
I've done it in the past and I'll do it again.
I don't want to annoy you, particularly with the very thing that annoys me as well.