Everyone has their favorite way of reading what they enjoy online, and I'm certain you're no different.
That's why I make Ask Leo! available in several different venues.
Ask Leo! direct
askleo.com – The home of Ask Leo! On the Ask Leo! website you'll find over 4,000 different articles spanning over 15 years of questions and their answers, as well as comments, opinions and more. New articles are posted 2-4 times each week.
Confident Computing – the weekly newsletter from Ask Leo! highlights the articles published and updated the previous week. Subscribe!
The Best Of Ask Leo! – also emailed once a week, "Best Of" is a series of articles hand selected from the archives and sent in to you via email in their entirety.
Ask Leo! New Article Notification – If you'd rather not wait around for the weekly newsletter, new article notification may be for you. Subscribe and you'll get an emailed notification each time a new article is published on Ask Leo!
The Ask Leo! RSS Feed – If you're running an RSS reader then the Ask Leo! RSS feed provides a great way to see new content as it's posted as well. In fact, New Article Notification uses this.
The Ask Leo! Podcast – New articles include a spoken audio version. This audio is provided not only near the bottom of every article, but also as an RSS and iTunes podcast feed suitable for almost any podcast player.
Ask Leo! On Business – My business-oriented site, dedicated to the premise that anyone doing business, anyone with a cause to champion, or anyone with a message to share, needs to have a presence on the web. (Currently on hiatus.)
Ask Leo! on social media
Most of my efforts on social media are "announce only". Due to limited time I don't participate heavily myself, but they're often a great way to find out when new articles are published, or when I come across issues that I think are important to share.
The Ask Leo! Facebook Fan Page – New articles are posted here as they're published, and I often share other links of interest, comment on topics of the day. (Currently on a break from Facebook, though new articles will continue to get posted here.)
Ask Leo! on Twitter – New articles and links of interest are posted here. (I'm no longer updating on Twitter.)
Ask Leo! on Mastodon – New articles and links of interest are posted here.
Ask Leo! on YouTube – New videos posted regularly accompanying the articles posted on Ask Leo! proper. Subscribe!
Other places
leo.notenboom.org – My personal blog. Less tech, much more personal philosophy, writing exercises, and of course Corgis.
♦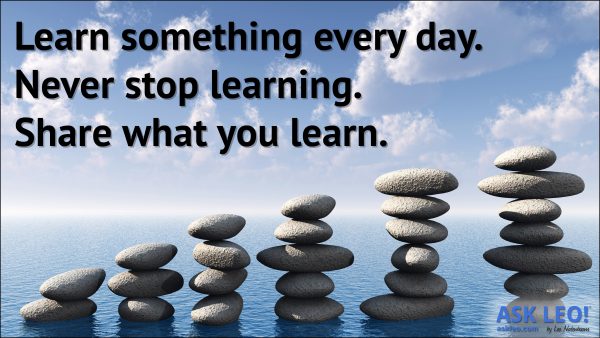 If you have a question for me
By far the best way to get an answer is search the web site first. That's why I have a search box on every page of the site. When I say that half of the questions I get asked are already answered in an article somewhere on my site I'm honestly not kidding.
If you can't find what you're looking for, check the more search options page; it has suggestions as well as a link to the page on which you can submit a question of your own.
Books and more
And of course I'd be remiss if I didn't mention:
The Ask Leo! Store – where you'll find all my books available for purchase.
The Ask Leo! Glossary – pages dedicated to the terms that often confuse us all.
And… I've probably forgotten something, I'm sure. :-)
That's a lot of different places
I hope that somewhere in there you're finding Ask Leo! helpful!