This question took me by surprise. Seriously.
I mean, why would you even consider it?
Well, apparently there's a prank or scam running around that encourages people to do exactly that.
Don't.
C:\Windows\System32 is Windows itself, and deleting it, if even partially successful, will break your Windows installation. You'll need to reinstall Windows or restore from an image backup to recover. Suggestions that you should do so are generally pranks that should be completely ignored.
System32 is Windows
The folder C:\Windows\System32 is Windows itself. It contains almost all the files that make up Windows.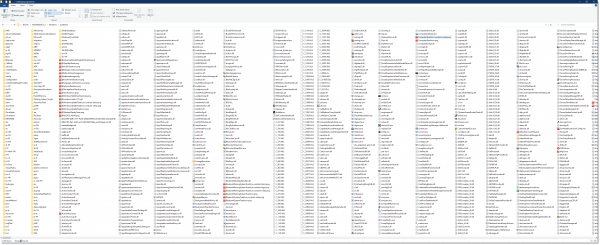 When you get right down to it, Windows is "just" a computer program — albeit an incredibly large and complex one. That program is stored on your hard disk as a collection of files. The vast majority of those files live in the System32 folder.
Windows is perhaps better thought of as the folder "C:\Windows" and everything in it, but that overlooks some components stored in other folders, such as "C:\Program Files" and similar. But the System32 folder has most of the files that makes Windows work.
Deleting System32
There's a good chance you can't delete all of System32, even if you're running "as administrator". You'll find some of those files are in use, which means they can't be deleted. The program using them? Windows itself.
As long as Windows is running, those files are locked by virtue of being in active use.
The only way to really delete System32 completely is to boot into another operating system (most easily by booting from a DVD or other external source). Then you might have access to delete the folder and its contents.
After you do so, your machine will no longer boot from its hard drive, since you've deleted 90% of the operating system.
The only way to recover would be to either restore from an image backup taken of the drive prior to the deletion, or reinstall Windows from scratch.
Legitimate deleting
There is, of course, a legitimate approach to deleting System32: that's when you no longer want to run that installation of Windows.
The way to do that — "delete" System32 as well as the rest of Windows — is to install another operating system or reinstall Windows from scratch. That process will replace all the operating system files. If, as some installations do, you're left with a "Windows.old" folder that itself has a "System32" folder, you can delete that, as long as you know you'll never want to revert to the previously installed system.
It's a trap!
As I said, I'm not sure why anyone would even consider doing this. It's like deciding to remove your car's engine while hurtling down the expressway at 60 miles an hour: the results won't be pretty.
From what I've heard, there's a scam or a prank suggesting that System32 is some kind of virus, and should be deleted. Besides just wanting to wreak havoc, the closest explanation I can come up with are those who consider Windows itself a "virus".
Deleting System32 is not the way to get rid of it.
Podcast audio

Download (right-click, Save-As) (Duration: 7:32 — 7.6MB)
Subscribe: RSS