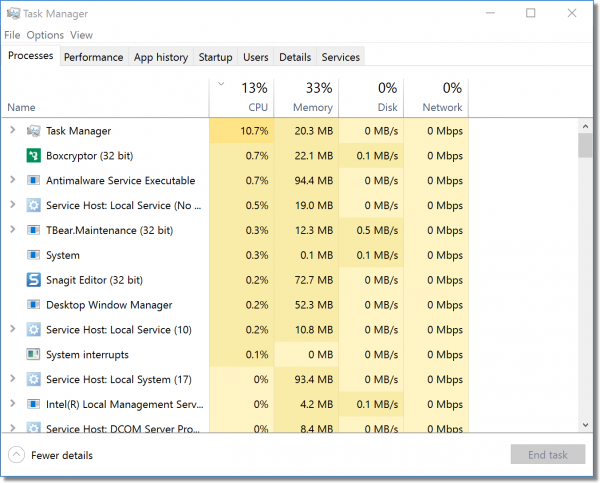 The Task Manager utility went through a major upgrade right around the time of Windows 8. The result is a much more powerful and useful program, so much so that it almost eliminates the need for a program I've recommended for years: Process Explorer. Today's tip is just one example of that.
Perhaps one of the most common questions people have about their computer is, "Why is it so slow?" Often, it's because one program or another is making excessive use of the CPU, slowing down everything else as it does so. We can use Task Manager to see which program that is.
Right-click on the clock in the taskbar and click on Task Manager. The default view will be pretty boring, but if you click on the More details link at the bottom, things get interesting very quickly. You'll see lots of processes listed; the list is updated in real time, once a second.
Click on the CPU column heading and the list will be sorted by CPU usage. If the total CPU usage is high (say over 75% or so), you'll see which programs contribute to that usage floating to the top of that list. (If everything's listed at "0%", click that column heading a second time to sort the list in the other direction.)
With that knowledge, you can make some decisions. The slow-down might be due to what you're doing on the computer just then. It might be transient, like an anti-malware scan, so perhaps waiting awhile would be the right answer. Perhaps it'll simply give you another clue to research a less obvious problem.
But it's all using a tool already built into your system — no additional download required.
Related Video