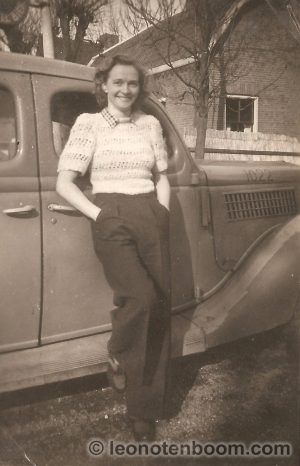 I spent a portion of yesterday with my cousin here in The Netherlands looking through old photographs of our parents. (Her mother and mine were sisters.)
I was looking for something specific, which I think we found, for an Ask Leo! project. (It's a pretty compelling story for backups.)
The photograph accompanying today's post is of my mother, probably around 1940 or so, making her just shy of 20 years old. It's one of a handful of photographs that I did not have, so it's a pretty treasured find. It may be the only copy of that photograph.
Until we scanned it, of course.
And that's where the backup topic comes in.
I've written before about how on our 30th anniversary trip to Australia and New Zealand in 2010, my wife and I took many pictures. I realized that, short of our lives, those pictures would be the only things that could never be replaced in the event of a worst-case disaster. At that time, the internet wasn't something we could count on in our travels, so I devised a plan involving external backup drives as well as mailing memory cards full of photos back home.
Today's trip to The Netherlands has been dramatically different. From preparing for and booking the trip, to navigating my way, to remaining constantly on-line, to the lengthy conversation I had with my wife last night using Skype, the internet has been a ubiquitous and wonderfully useful part of my travels. And fast.
The net result is that backing up the new photos I take (as well as the scans of older pictures) is a snap. They're copied to the OneDrive folder on my laptop, and within a few minutes the photographs are replicated not only to "the cloud" (aka online storage), but a few minutes after that they begin to appear on my computers at home, 5000 miles away. (And of course photos taken on my phone are automatically uploaded without my needing to take any additional steps.)
Multiple copies — backups — without much effort at all.
When I return home, the photographs will all be moved to my long-term archives — also backed up and replicated into online storage — and OneDrive will get cleaned up. But for now, while I'm away, the safety net is in place. Those irreplaceable photographs are protected.
Be it with your phone or your camera, I encourage you to think about backing up the memories you create when you travel. Ubiquitous internet may not be an option, depending on your situation, I get that. All that means is you may need to get creative. I've said this before: regardless of when, where, and how, the best backup is the one you'll actually do.
But do it, you must…
… or you risk losing the truly irreplaceable.

October, 2016
Soest,
The Netherlands
PS: Here's a bonus you may enjoy: https://go.askleo.com/amslanding. It's a 10-minute video I shot out the window of our Airbus A330 as it landed in Amsterdam. Beginning with the wind-farm just off the coast in the North Sea, the flight gave us wonderful views of the Dutch countryside, all the way to touchdown.