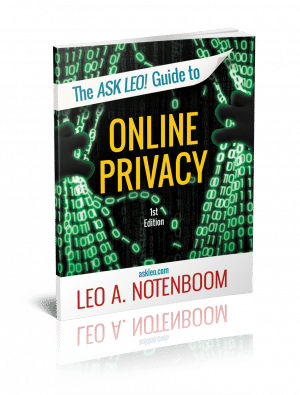 Privacy – A Thing Of The Past?
The software on your computer can expose your information.
Learn what you need to do to reign it in.
Your computer's hardware can expose your information.
Learn what you can set, change and configure to limit those leaks.
Online services can expose your information.
Learn what you can do to protect yourself while using them effectively.
 ♦
Privacy – It's Complicated
There's no avoiding the issue: privacy issues are scary, complex, and even somewhat mystifying.
The Ask Leo! Guide to Online Privacy tackles these topics in terms you can understand. Using the plain language, examples, and comparisons that I've become known for, The Ask Leo! Guide to Online Privacy will help you understand what's at risk, what steps to take, and what to do when you're not sure.
Collected from articles I've published on Ask Leo, The Ask Leo! Guide to Online Privacy addresses the pressing issues that people are asking about, and that experience shows are the most important aspects of keeping control over your information, and ultimately your privacy online.
 ♦
Privacy – Many Vulnerable Points On The Way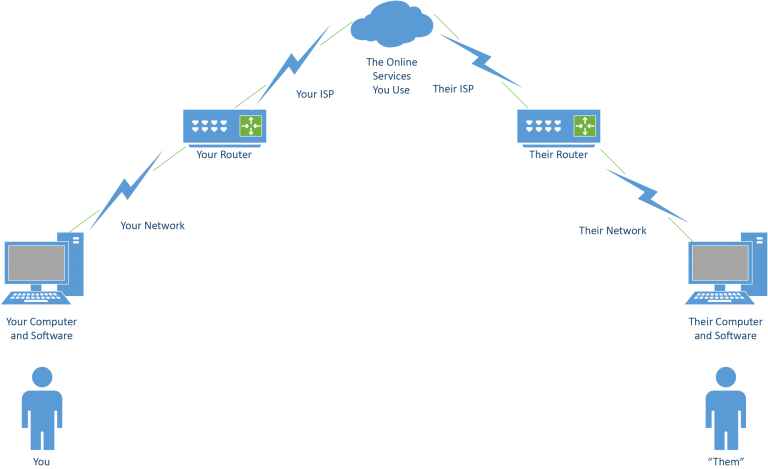 At every point along the way you'll find software and hardware, and perhaps most importantly, people, who may have access to your information. Protecting yourself, while still being able to take advantage of today's technology, takes a little preparation.
That's where The Ask Leo! Guide to Online Privacy comes in. We'll review exactly what's at risk, and what steps you need to take, to keep your privacy intact.
♦
Privacy – Are You Interesting?
One of my most common statements when it comes to privacy is: "You're just not that interesting."
That's true … to a point.
And it certainly doesn't mean you should let your guard down. It's too common to find out too late that something shared, something exposed, or something stolen was something you really didn't want to lose control over.
And it is, all, about control: control of your information.
And sometimes you are interesting. By knowing what it takes to protect yourself you'll be better able to make confident decisions about what actions to take, what services to use or avoid, and what to worry about as you navigate our exciting digital world.
♦
Also Included
Once you register your purchase (using the link that's present only in the book), you'll get immediate access to:
A downloadable PDF version that you can read on any device capable of displaying PDF files.
A downloadable MOBI version of the book, ideal for Kindle.
A downloadable EPUB version of the book, ideal for a variety of other ebook readers.
Prioritized support and contact to get your questions answered.
Updates for Life
Once you purchase you're entitled to digital updates for life. As the book is updated, corrections made, or even new editions published, you'll have immediate access to the digital downloads once you register.
Bonus! Bonus!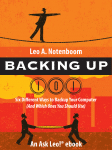 Also included with registration of your purchase is a FREE copy of Backing Up 101 – Six Different Ways to Back Up Your Computer (And Which Ones You Should Use) my valuable overview of different backup strategies, and which ones apply to your situation!
Have a look!
Click to download a PDF sample. (You may want to right-click or shift-click and select "Save As…".)

The sample contains the first 10 pages of the book, including its table of contents. If you like what you see, you can purchase the entire book below.
Buy Now! (You Won't Regret It!)
Three ways to purchase:
Purchase the PDF directly from me.
Purchase the Kindle edition from Amazon.
Purchase the paperback edition from Amazon.
Remember, no matter which you purchase you'll get access to all digital formats.
No Risk
I believe in what I do, and I honestly believe that The Ask Leo! Guide to Staying Safe On The Internet can help you.
However…
If, after purchasing you're not completely satisfied, just ask me for your money back.
It's that simple.
It's that safe.
Why wait?
The Ask Leo! Guide to Staying Safe On The Internet is available several ways:
◊
The Ask Leo! Guide to Online Privacy – Electronic Book
Includes:

A digital download: The Ask Leo! Guide to Online Privacy

– immediate

PDF

download

Exclusive members-only site access
All digital editions – PDF, epub, mobi
Digital Updates for Life

◊

$19.97

The Ask Leo! Guide to Online Privacy – Kindle book (from Amazon)
Includes:

A Kindle electronic book: The Ask Leo! Guide to Online Privacy

 – sold by Amazon.com and delivered directly to your Kindle,

Exclusive members-only site access
All digital editions – PDF, epub, mobi
Digital Updates for Life

◊

$19.97

The Ask Leo! Guide to Online Privacy – Paperback book (from Amazon)
Includes:

A paperback book sold and shipped by Amazon.com: The Ask Leo! Guide to Online Privacy
Exclusive members-only site access
All digital editions – PDF, epub, mobi
Digital Updates for Life

$24.97